The best organic antioxidant supplements fight free radicals and reduce oxidative stress, offering several benefits in the body depending on their unique formulas. In this article, we outline our recommendations for the top antioxidant supplements on the market and share the benefits they provide consumers.
What are Free Radicals and What is Oxidative Stress?
Before we delve into the best organic antioxidant supplements and their benefits, let's look at the reasons you should consider consuming these types of products – the key reasons being to eliminate free radicals and reduce oxidative stress.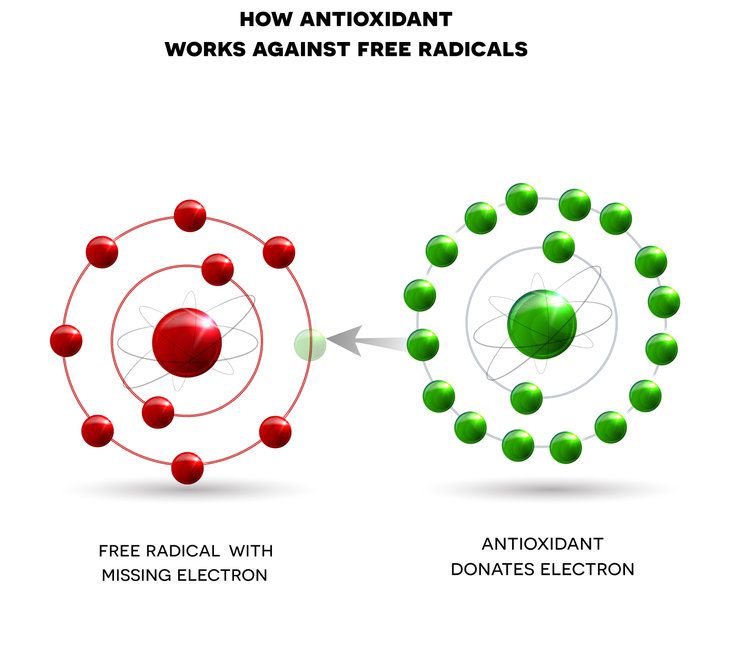 Free radicals are unstable atoms that damage the brain and body and are particularly powerful contributors to signs of aging and atrophy. Studies support these arguments, showcasing an increase in age-related impairments among subjects with higher levels of free radicals (1).
Antioxidants work by donating electrons to free radicals, stabilizing them, and preventing the oxidation of other molecules in the body. Oxidation is a natural and important process in the body, however, oxidative stress refers to an imbalance of free radicals and stable molecules within the body (2). Therefore, organic antioxidant supplements support oxidative balance and reduce the stress associated with it by eliminating the unnatural presence of free radicals.
The Best Organic Antioxidant Supplements for Holistic Health
For holistic health, the best organic antioxidant supplement to consume is Approved Science® Ashwagandha.
Approved Science® Ashwagandha contains an optimal concentration of its core ingredient, organic Ashwagandha, which is responsible for eliminating free radicals that contribute to cognitive decline, anxiety, insomnia, low immune strength, inflammation, and more. The science-backed benefits of Ashwagandha make it an absolutely essential organic antioxidant supplement for comprehensive health support (5). The addition of ginger and BioPerine® support these benefits as well as improves the rate of absorption at which the Ashwagandha can enter the body and provide the claimed benefits.
The Best Organic Antioxidant Supplements for Reducing Oxidative Stress
Consumers seeking the most comprehensive organic antioxidant supplements for reducing oxidative stress should consider Approved Science® Astaxanthin.
Organic AstaZine®, a patented ingredient, is the key active component in the Approved Science® formula that works to eliminate free radicals and reduce oxidative stress (6). Being a patented ingredient, it is clinically proven to deliver on manufacturer claims as well as provide one of the most comprehensive oxidative support functions on the market. The product formula also contains Vitamin E, Zinc, and BioPerine® for improved results. Each of these ingredients is known to reduce oxidative stress, synergizing the function of AstaZine® within the body, boosting the antioxidant qualities of the core ingredient, and increasing the rate at which this key ingredient balances oxidative stress.
The Best Non-Organic Antioxidant Supplements That are Safe to Use
Organic antioxidant supplements are products that provide one of the most natural defense strategies against free radicals and oxidative stress, however, there is a case to be made about the consumption of non-organic antioxidant supplements for improved oxidative support.
Non-organic antioxidant supplements that contain safe formulas often include high concentrations of key active ingredients necessary for more impressive and beneficial results. Some of the most notable among this recommendation include Approved Science® Glutathione, Approved Science® Immune Booster, and Approved Science® CoQ10 MD™. 
All three of these antioxidant formulas contain safe ingredients at optimal dosages. Furthermore, their formulas are clinically proven and third-party tested to ensure that they live up to manufacturer claims. They work by combining unique patented ingredients and natural substances from natural ingredients to deliver a high-quality formula that provides numerous health benefits.
While they are not classified as organic antioxidant supplements, consumers can be confident in their efficacy and the reduced risk of side effects as they are cGMP certified and have an array of positive online reviews that support their benefits (7). The combination of any of the best organic antioxidant supplements and any of these non-organic antioxidant supplements will deliver the most powerful health benefits and defense against free radicals and oxidative stress.
>>Can Approved Science® Glutathione work for you? Read what customer reviews here!
Your Takeaway
Those looking for the best organic antioxidant supplements on the market should look no further than Approved Science® Ashwagandha, and Astaxanthin. The consumption of these high-quality supplements alongside a healthy and well-balanced diet, regular exercise, and powerful non-organic antioxidant formulas will deliver health benefits over and above the body's increased ability to fight free radicals and reduce oxidative stress.