There are many reasons why we experience hair loss. Stress, sickness (including COVID-19), nutritional deficiencies, hormonal imbalances – the list goes on and on. Dealing with thinning hair can be extremely frustrating, not to mention the negative effect it has on our self confidence. The good news is that Approved Science® may be able to help. By providing the essential building blocks for healthy hair, as well as aiding hair loss prevention, Hairprin™ natural hair support just may be the answer you've been looking for.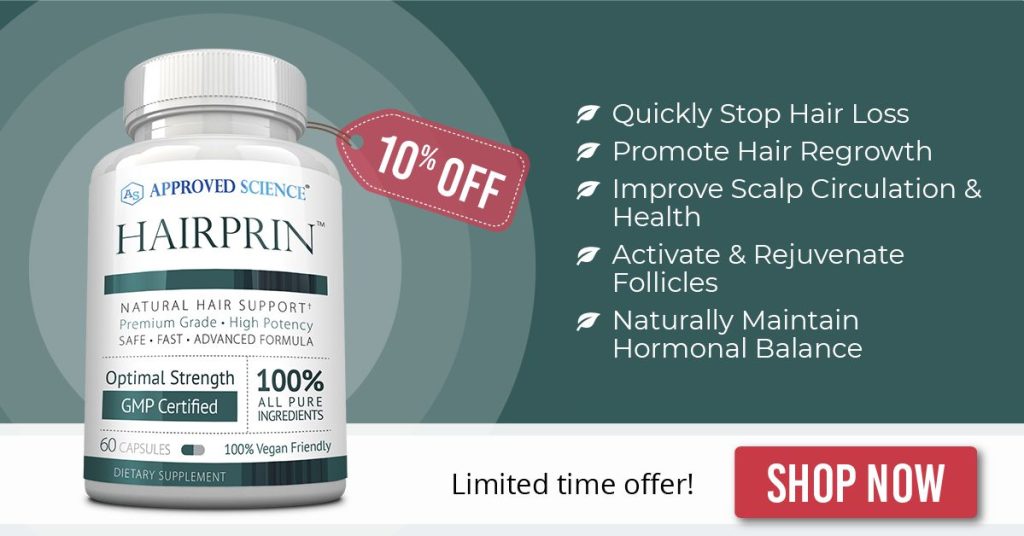 What Is Hairprin™?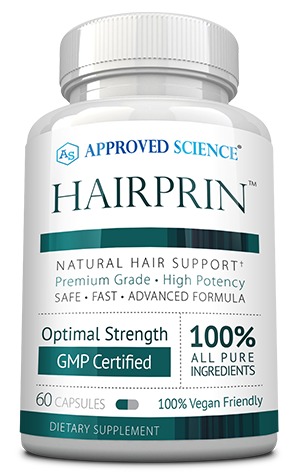 Hairprin™ is an advanced nutritional supplement scientifically formulated to prevent hair loss and restore healthy hair growth. It includes vitamins and minerals for combatting deficiencies that cause hair loss, as well as amino acids essential for building Keratin, the key structural protein of hair. Additionally, Hairprin™ contains an array of herbs and extracts that help to enhance blood flow to the scalp, increase follicular growth, and regulate hormonal imbalances, as well as to retain hair and scalp moisture. All of the ingredients in this formula have been clinically tested and shown to support healthy hair.
Hairprin™ Ingredients
Hairprin™'s unique formula provides a dual-action response: it addresses the triggers of hair loss while also providing critical nutritional building blocks for optimal hair health. So, what are the ingredients that make our formula so effective? We're glad you asked! At Approved Science®, we strive for full transparency, so here is the breakdown of all the clinically-proven ingredients included in Hairprin™: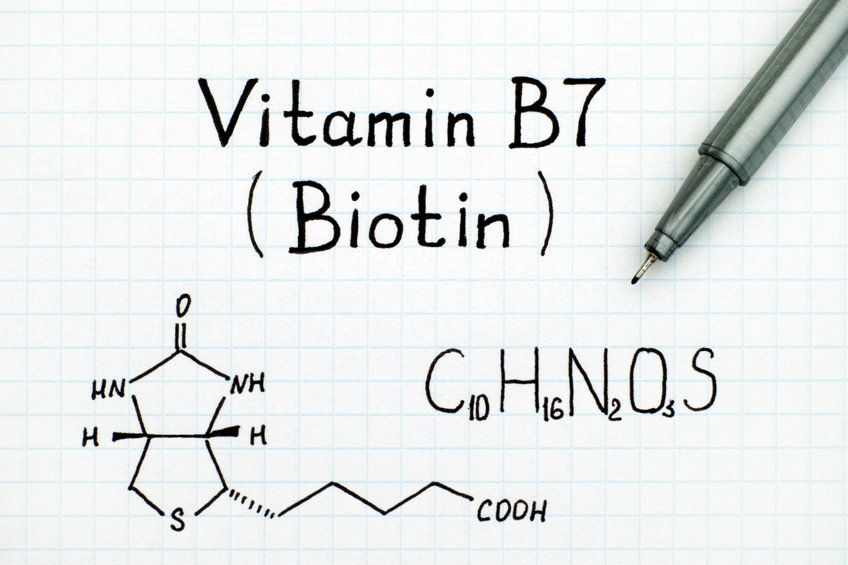 Vitamin B complex – B vitamins are some of the most important for hair health. They help supply your scalp with oxygen and other nutrients essential for healthy hair growth.
Biotin – Biotin (or B7) is the most important of the B vitamins for hair health, as it plays a fundamental role in the synthesis of Keratin, the main protein component of hair. It also promotes fast hair regrowth by improving the health of hair follicles, as well as protecting hair from becoming dry and brittle.
Saw Palmetto – Blocks the activity of an enzyme responsible for synthesizing DHT, a hormone linked to hair loss. Saw Palmetto also inhibits the uptake of DHT in hair follicles, further protecting from hair loss.
Ginkgo Biloba – Improves blood flow and circulation, helping to stimulate follicular cells for increased proliferation and hair growth.
Tocopheryl Acetate – A powerful form of Vitamin E. The antioxidant properties found in this essential vitamin combat free radicals that damage hair follicles in the scalp, helping to maintain healthy growth and reduce hair loss.
Fo Ti – This traditional Chinese herb is known to increase the number of hair follicles and stimulate hair growth.
Borage Oil – Contains gamma linoleic acid (GLA) which reduces inflammation & helps scalp retain moisture.
MSM – A sulfur-rich compound that provides anti-inflammatory properties and strengthens keratin bonds in the hair.
L-Cysteine – One of the few amino acids that form disulfide bonds in the body. These bonds hold together the keratin strands of the hair, helping it retain moisture as well as maintain its texture and thickness.
L-Methionine – Another amino acid vital for keratin production.
Vitamin A – Vitamin A is critical for the growth of cells. This is especially important for hair, the fastest growing tissue in the human body. Vitamin A also helps with the production of sebum, an oily substance that moisturizes the scalp and helps maintain healthy hair.
Trace mineral blend – This blend provides the building blocks required to maintain healthy hair production. It includes Zinc, Iron, Copper, Iodine, and Selenium.
Hairprin™ Natural Hair Support Reviews
We at Approved Science® believe in all of our products, but we understand if you are still skeptical. To make your decision easier, we gathered a few Amazon reviews from consumers who, just like you, were suffering from hair loss. Check out what they had to say about Hairprin™:

"I have been using HairPrin for almost a year now and absolutely love the results!" – 5/5

Michelle Junet (November 5, 2019)
"I tried different products in the past but this is the first one that actually I can see some results. I can see that my hair is not falling anymore." – 5/5

Amazon Customer (August 20, 2018)
"Within 2 weeks of using this product, my hair felt heathier and stronger. I noticed a significant growth after 1-2 months. I also noticed that it contains other supplements with great benefits, not just for hair but overall health." – 5/5

Chris (March 2, 2020)
"I have tried a few hair vitamins and nothing but these worked the first month. I am in shock at how well. Healthier hair and way longer. Love them. I'm sold!" -5/5

Sarah (September 24, 2020)
Read more 5 star reviews here.
Hairprin™ Side Effects
Hairprin™ is a safe, natural product. It is third-party tested and manufactured in a GMP-certified and FDA-approved facility. It does not have any known side effects. That being said, we recommend you consult with your doctor before starting any new dietary supplement, particularly if you are pregnant, breastfeeding, under 18 years old, suffer from a medical condition, or currently taking medication.
Where To Buy Hairprin™
Hairprin™ is available on the Approved Science® website as well as on Amazon. All Approved Science® products come with a 60-day money-back guarantee (provided that you are buying from these authorized sellers).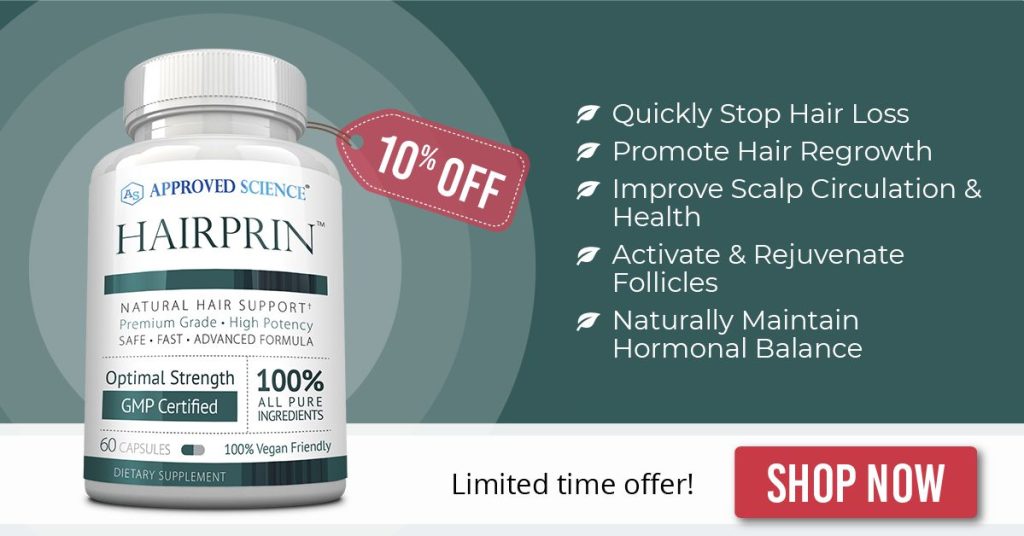 The Bottom Line
Hairprin™ natural hair support is a safe, natural way to rejuvenate hair and boost healthy growth. It includes a range of clinically-proven ingredients to address varying causes of hair loss and provide maximum support for optimal results. With many happy customers and hundreds of positive reviews, you'll definitely want to give this product a try.