Before we discuss Bloodsyl™ vs Garlique® Healthy Blood Pressure Formula (hereafter referred to simply as Garlique®) for blood pressure management, let's lay down the basics of what blood pressure is. Blood pressure is the force of your blood against the walls of your blood vessels. This is measured as systolic and diastolic values. Systolic pressure refers to the pressure while the heart is contracting, whereas diastolic is the value when the heart relaxes. Systolic and diastolic blood pressure can be too high (hypertension) or too low (hypotension). Supplements aim to improve circulation, relax blood vessels, and fight oxidative stress.
Click Here To Discover What Customers Are Saying About Bloodsyl™!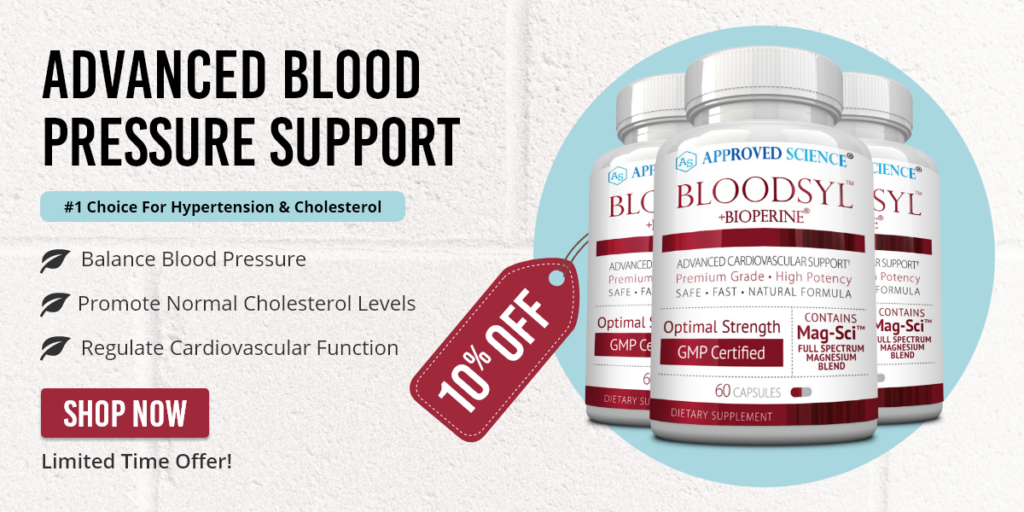 What Are The Top Ingredients Recommended For Blood Pressure Support?
Bloodsyl™ Vs. Garlique®: Ingredients
| | Bloodsyl™ | Garlique® |
| --- | --- | --- |
| Magnesium | 300mg | 110mg |
| Vitamin D3 | 10 mcg | none |
| B Vitamins | B-Sci™ Vitamin B Complex with 200 mcg Folate, 100 mcg Vitamin B12, and more | 680 mcg Folate, 3 mg Vitamin B6, and 18 mcg Vitamin B12 |
| Garlic | 150 mg | at least 1800 mcg allicin |
| Vitamin C | 60 mg | 60 mg |
| Hibiscus | 100 mg | none |
Click Here To Discover What Customers Are Saying About Bloodsyl™!
For those of you who don't like charts, I'll sum up the data above and then we'll look a bit closer at the Bloodsyl™ formula. In short, Bloodsyl™ contains more Magnesium, Vitamin D, variety of B Vitamins, and Hibiscus than Garlique®. On the other hand, Garlique® contains more Folate, Vitamin B6, and Vitamin B12 than Bloodsyl™, and it is standardized to have 1.8 mg of the active component in Garlic. Both supplements have an equal amount Vitamin C.

While Garlic is amazing (8), and Garlique® builds their formula around Garlic, Bloodsyl™ has a more diverse cast of ingredients. Bloodsyl™ doesn't only try to reduce blood pressure, it also aims to prevent hypertension by addressing influencing factors, such as high levels of salt in the body. Since high salt content increases fluid in the blood vessels and puts more pressure on the walls of the blood vessels, Bloodsyl™ contains Hibiscus and Celery for their diuretic effects that can help the body expel excess salts. Additionally, Bloodsyl™ contains Hawthorne powder which has demonstrated antioxidant benefits and positive effects on cholesterol, blood flow, and blood pressure. You can read more about the ingredients in Bloodsyl™ here.
Bloodsyl™ Vs Garlique® Reviews
When it comes to the Amazon reviews, both products have many testimonials that confirm the effectiveness of the product. To find out more about how Bloodsyl™ and Garlique® compare, we sought out extra third-party sites. Bestreviews.com, which is an independent review site, has reviewed both Bloodsyl™ and Garlique® (9)(10). Check out the comparison below: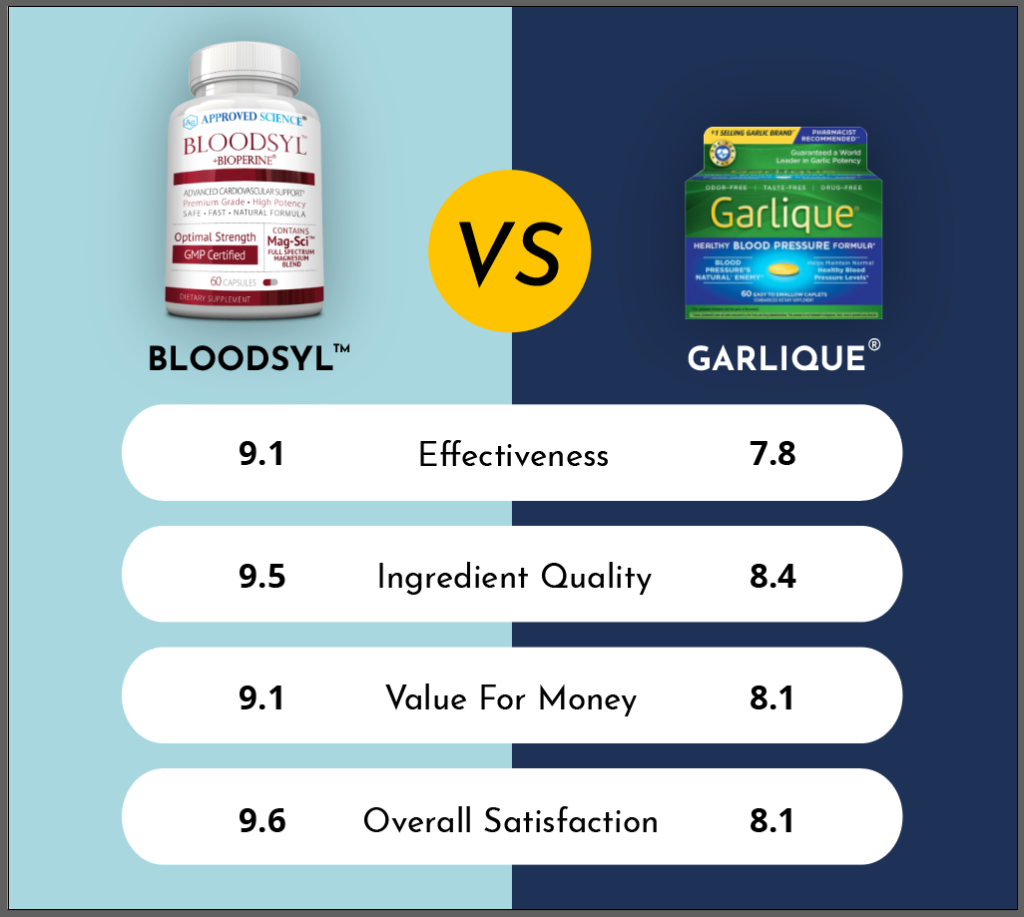 Click Here To Discover What Customers Are Saying About Bloodsyl™!
Bloodsyl™ vs Garlique® – Safety & Reputation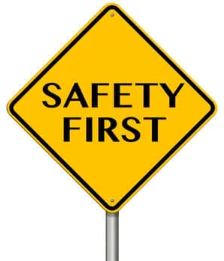 Bloodsyl™ is made by Approved Science® which has a great and growing reputation. Approved Science® is an established manufacturer that makes all of its products in a top-quality, cGMP-certified and FDA-licensed laboratory in the US. The average review rating for Approved Science® on Amazon is a high 4.6/5 (9). This high satisfaction rating is likely because every ingredient in Approved Science® Bloodsyl™ is backed by clinical research and specifically chosen to help deliver the optimal results.
Garlique® is made by Focus Consumer Healthcare which is the organization that has been in business for over 30 years, though Garlique® hasn't been around as long. Garlique® is also made in an FDA-regulated facility and in compliance with the Good Manufacturing Practices (GMP). As can be seen from the above ingredient-comparison above, the ingredients in Garlique® are backed by science, as almost all of them also appear in Bloodsyl™. The only ingredient in Garlique® that can't be found in Bloodsyl™ is Vitamin B6 because there isn't sufficient evidence that it helps with blood pressure.
Both Bloodsyl™ and Garlique® are likely safe for most people, being that they contain natural ingredients, are manufactured following safety procedures, and are third-party tested. Nevertheless, managing high blood sugar is a medical matter and your health care professional should be consulted with and included in your decision of which blood pressure support supplement to take.
Where to Buy Bloodsyl™ or Garlique®
Garlique® and Bloodsyl™ are available on Amazon or directly from the company sites. At Approved Science®, we guarantee a pleasant shopping experience and we're so confidant that you'll love our products that we offer a 100% money-back satisfaction guarantee and 10% off Bloodsyl™ and your whole purchase if you click the banner below. What are you waiting for? Take control of your blood pressure by starting with a smart purchase today!