Are you in agony from a frozen shoulder? Managing pain and restoring range of motion for a stiff and frozen shoulder needs to be a multi-pronged approach. While you may be taking pain killers and doing physical therapy, there could be real nutritional deficiencies in your diet that aren't allowing your body to heal as fast as it can. Read about the best frozen shoulder supplements from Approved Science® to help your body heal as fast as it can.
Approved Science® Jointprin™: Rapid Joint Pain Relief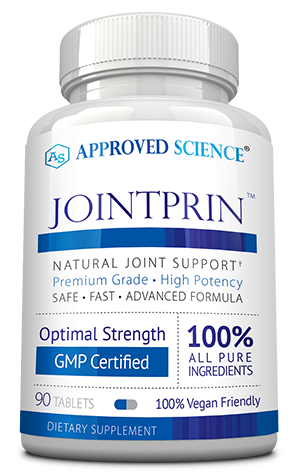 I am having joint pain in my right elbow and shoulder. Jointprin has brought it to a minimum. I quit taking it for 3 days to make sure it really was working and it is! I am very satisfied with the product and will continue to take it to keep the pain away.

Paul H., Verified Verified Customer
Glucosamine
Vegan form of Glucosamine
Helps repair, grow and maintain cartilage
MSM
Decreases swelling
Alleviates osteoarthritis pain
Mythocondro®
Absorbed 43% better than bovine Chondroitin Sulfate
Derived from vegan sources
Lubricates joints
Prevents cartilage deterioration
Cetyl Myristoleate
Reduces inflammation
Lubricates joints
Softens cartilage for greater flexibility
Hyaluronic Acid
Acts as a lubricant
Cushions joints and surrounding cartilage
Black Catechu
Provides anti-inflammatory properties
Reduces joint pain and atherosclerosis
L-glutamic Acid
Amino acid that forms proteins
Important for skeletal muscle strength and energy metabolism
L-cysteine
Maintains cartilage in joints
Aids tissue repair
Supports skeletal muscle strength
Helps circulation
White Willow
Provides anti-inflammatory benefits
Alleviates pain
Reduces swelling in joints
Boswellia
Anti-inflammatory agent
Treats rheumatoid and osteoarthritis
Holy Basil
Antioxidant and anti-inflammatory agent
Alleviates painful joints
Turmeric
Prevents inflammation
Reduces pain and tenderness
Alleviates stiff joints
Ginger Root
Antioxidant and anti-inflammatoryContains analgesic properties
Bromelain
Alleviates pain
Reduces swelling
Accelerates healing after injuries and surgeries
Rutin
A powerful bioflavanoid
Strong antioxidant and anti-inflammatory properties
BioPerine®
Patented, concentrated source of Piperine
Clinically proven to boost absorption
Approved Science® Turmeric MD™: High Absorption Turmeric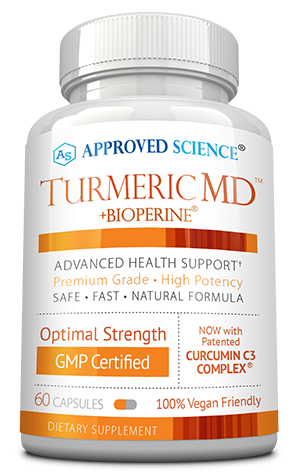 I've used a number of different turmeric products to alleviate pain and inflammation. Some worked well. Some were ineffective and even made me slightly nauseous. Turmeric MD has been the best by far. I will continue using it and ordering more soon. It's the best yet.


Bill Stenberg, Verified Amazon Customer
Tumeric
Potent anti-inflammatory
Contains powerful Curcumin C3 Complex®
Standardized to 95% curcuminoids for maximum benefits
BioPerine®
Patented, concentrated source of Piperine
Clinically proven to boost Turmeric absorption by 2,000%!
Approved Science® Omega-3 MD™: Advanced Strength Fish Oil
"My joints have felt so much better since using this product. Also not bad aftertaste like I've experienced with other products."

Lauren Biltz, Verified Amazon Customer
Omega-3 Fatty Acids
Powerful pharmaceutical-grade, deep-ocean Omega-3
100% pure Omega-3 fish oil
900mg EPA to reduce pain and swelling
600mg DHA to fight inflammation
Which is the Best Frozen Shoulder Supplement for You?
It's never too late to optimize your health. Get there faster and easier by taking 10% off your next purchase from Approved Science®.