Odorol™ is a revolutionary supplement that helps reduce body odor without having to mask it with harsh chemicals. Its ingredients provide superior protection that can help you feel confident, no matter the situation. Approved Science® crafted Odorol™ with ingredients that have been shown to have an incredibly effective impact on reducing bad breath and body odor. With natural extracts and a probiotic, Odorol™ is a fantastic way to combat odor while still being conscious of what you're putting into your body.
Real Odorol™ Reviews: What do our Customers Say?
Odorol™ has been featured a 5-star product on sites such as both Mommy Authority (1) and Review Critic (2). In addition to these stellar reviews, Odorol™ has received over 150 ratings on Amazon (3)! Keep reading for a glimpse of what Odorol™ customers have to say about the product.
I'm taking it twice a day and it's helping my bad breath in the morning. It is really good for entire body odor. I don't have to use mouthwash again and again and don't need to brush after every meal.

Jalwa
I'm very HAPPY WITH MY ORDER. Satisfied with this product. IT WORKS WONDERS. Best product I ever used. Trust me, I usually don't write reviews but I had to share with others and tell them about the greatness of this product, it HELPS me with the smell in my mouth. I used everything Dr. told me and nothing work but because I use ODOROL, now I have a new Star in life.

Sabrina
It's helping with my breath. Now I feel more confident talking to others without being embarrassed.

Magatte Niang
This product is Amazing! It worked so good for bad breath. It really gave me my confidence back for social events. Thumbs up Odorol.

Verified Customer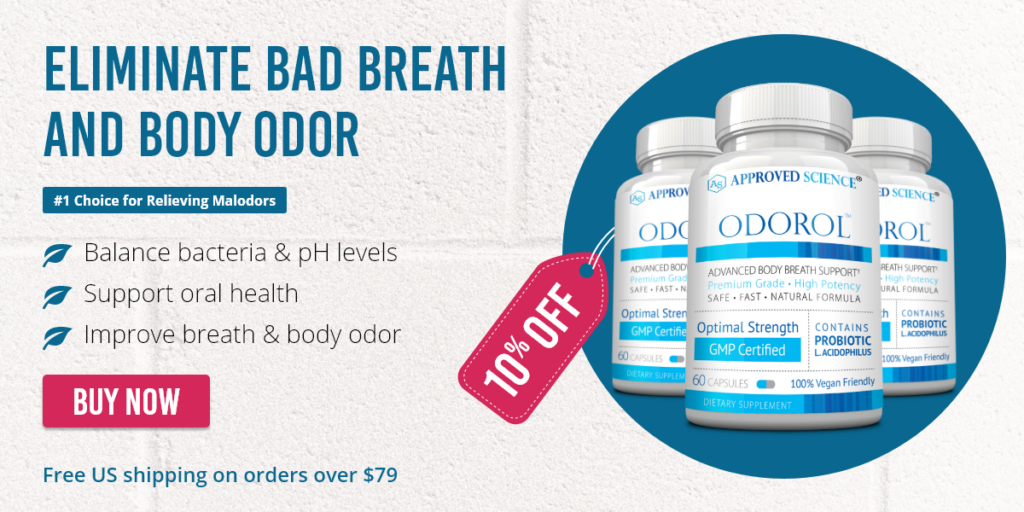 "It took a little time to work for me but when it did I appreciate the results!!! I will put this in my regular hygiene routine!!"
Hope Woods
"I have a digestion issue that causes stomach odor to breathe out through my nose and mouth. I've tried many products; so far Odorol has been slowly working."
Beverly
"Truly amazing – something that finally works. I'm pleased. Wish I would've known about this product sooner."
Daren Frederic
"I have been troubled with body odor for years, nothing ever seemed to work. After using your product for a couple of weeks I have noticed a great improvement, as have my friends and family."
Verified Customer
"Digestion improved and breath is much better."
Michael Katan
"I took one in the morning and one in the afternoon, it took care of my breath for the whole day. No more embarrassing moments when people start backing away when I started talking."
JS
Does Odorol™ Have Any Side Effects?
There are no reported side effects for Odorol™. This is in part due to the fact that it is formulated with clinically proven, plant-based ingredients. It is also the effect of the high-standards of Approved Science® and our third-party ingredient testing to ensure purity. Each of our supplements is made with care for the customer to ensure that it is safe and effective. That being said, you should still consult your doctor before taking Odorol™, as you would before adding any supplement into your diet.
Should I Take Odorol™?
Is your body odor or bad breath disturbing you or those around you? Do you feel like you have to apply deodorant more often and in larger quantities than normal? Would you like to feel and smell better? If you answered yes to any of these questions, then Odorol™ is for you. Odorol™ is scientifically formulated to help relieve malodors by balancing bacteria in the body and preventing bacteria overgrowth on the skin. That being said, as with any supplement, we recommend consulting with your doctor before starting to take Odorol™.
What Ingredients Are In Odorol™?
L. Acidophilus – A probiotic to help with malodor caused by poor digestion.
Chlorophyllin – A naturally deodorizing and toxin-eliminating substance derived from plants.
Magnolia Bark – Offers antioxidant, anti-inflammatory, and hepatoprotective effects.
Peppermint Oil – Helps reduce dental decay by fighting bacteria.
Green Tea Extract – Provides antioxidant and antibacterial components for eliminating bad smells.
Fennel Seed – Stimulates healthy intestinal motion to support regularity and odor elimination.
Odorol™ Reviews: Cost & Savings
A single bottle of Odorol™ costs $49.95, but Approved Science® offers great savings if you buy multiple bottles in the same order (which we highly suggests, because this is the type of supplement you want to keep on hand long-term). The more you buy, the more you save. To start you on your journey to better body odor and more confidence, we're offering an exclusive 10% discount off your entire order. Don't miss out – Click the banner below to start saving now!