Hair is a big part of many people's identity, which is why it's so frustrating when it starts to break off or fall out. The thing is, in a lot of cases there is a specific reason your hair is acting up. Sometimes, it's not a reason you can control, such as genes or stress, but many times your hair is just lacking some essential nutrient. The good news is that this means that it's treatable. You just have to know what it's missing – and then make sure it gets it.
What Are Hair Growth Supplements?
Hair growth supplements are the easiest, fastest way to make sure your hair is getting everything it needs. These supplements provide an array of nutrients that tackle hair loss from different angles to ensure you are completely covered. However, not all supplements are created equal and some work better than others. Keep reading to find out more about two of the leading hair growth supplements on the market.
Click Here >>> Read Customer Reviews of Hairprin™ Here
Hair Growth Supplement Overview: Hairprin™ Vs. KeraViatin®
KeraViatin® is a product by Keranique, a brand that creates hair loss products specifically for women. It offers a range of special shampoos, conditioners, treatments, and, of course, a hair growth supplement – KeraViatin®. This supplement contains clinically-tested and non-GMO ingredients including Biotin, Bamboo extract, and a Curcumin complex.
Hairprin™ is a product by Approved Science®, a natural supplement brand that uses science as a basis for all of its products. Hairprin™ is formulated for both men and women, and contains clinically-tested, non-GMO, vegan ingredients including Biotin, Folic Acid, Saw Palmetto, and Silica from Bamboo extract.
Hairprin™ Vs. KeraViatin®: Ingredients
Hairprin™ Ingredients:
Hairprin™ provides vitamins, minerals, amino acids, and plant extracts that have all been clinically studied and shown to provide benefits for hair growth. They are: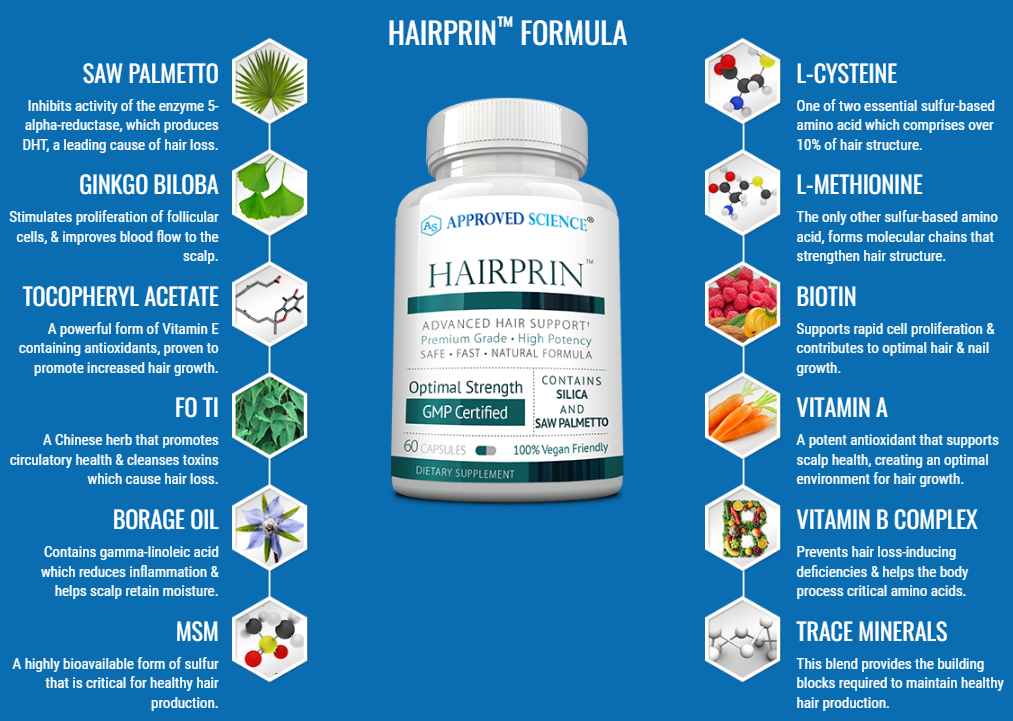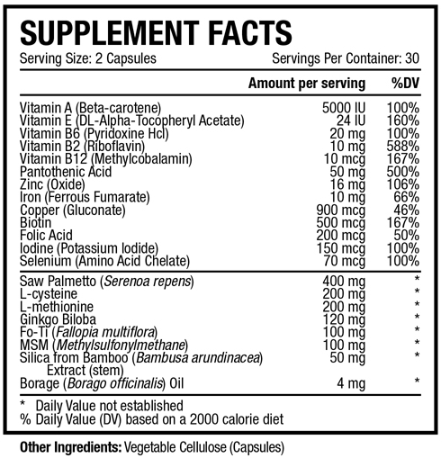 KeraViatin® Ingredients
KeraViatin® contains some good ingredients, such as Biotin, Saw Palmetto, and L-Cysteine. However, their ingredient list is inferior in every way:
Lower quantities of important ingredients, e.g., 330 mcg Biotin vs. 500 mcg included in Hairprin™ .
Missing key ingredients, such as Folic Acid and Ginkgo Biloba. Without such key ingredients the results are likely to be less effective.
Less bioavailable forms of ingredients, for example, their B12 is in the form of Cyanocobalamin, which is much less bioavailable than the Methylcobalamin and therefore not absorbed as well by the body.
Includes a proprietary blend. Proprietary blends are a clever way for manufacturers to hide the quantities of important ingredients. In this way, they can dilute key ingredients, reducing their efficacy, while still listing them on their label. For example, Saw Palmetto is an important ingredient which should be included in a hair supplement. KeraViatin®'s proprietary blend contains Saw Palmetto, but the amount is not mentioned and therefore we have no way of knowing if it will be effective.
Contains animal byproducts. Vegan products are considered safer than those containing non-vegan ingredients. KeraViatin® is not vegan as it contains animal byproducts.
Here is the ingredient list: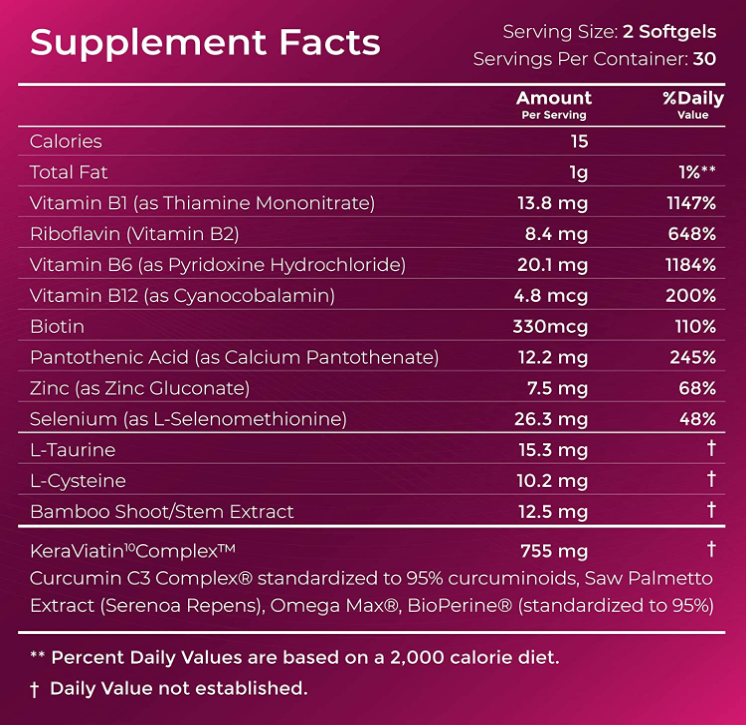 Other ingredients: Gelatin Capsule (Gelatin, Glycerin, Purified Water, Annatto), Sesame Oil, Yellow Beeswax, Sunflower Lecithin. These are not listed on this label but appear on the Keranique website.
Hairprin™ Vs. KeraViatin®: Safety & Side Effects
Hairprin™ is a safe, natural product. It is third-party tested and manufactured in a GMP-certified and FDA-approved facility. It is 100% vegan-friendly and does not have any known side effects. That being said, we recommend you consult with your doctor before starting any new dietary supplement, particularly if you are pregnant, breastfeeding, under 18 years old, suffer from a medical condition, or currently taking medication.
With regards to KeraViatin®, there are no mentioned side effects to this product. However, there is also no mention on the Keranique website about third-party testing. It is also worth noting that KeraViatin® is not vegan, which is considered less safe than vegan products.
Hairprin™ Vs. KeraViatin®: Company Reputation
Hairprin™ is made by Approved Science®, a brand with an excellent reputation. Approved Science® has high standards, GMP certification, third-party testing, and a 60-day money-back guarantee that ensures customer satisfaction. Approved Science® has glowing reviews on sites like Review Critic and Consumer Health Review as well as a high satisfaction rating on Amazon. The average review rating for Approved Science® on Amazon is a high 4.6/5. You can read more about Approved Science®'s reputation here.
KeraViatin® is made by Keranique. One quick search online told us everything we needed to know: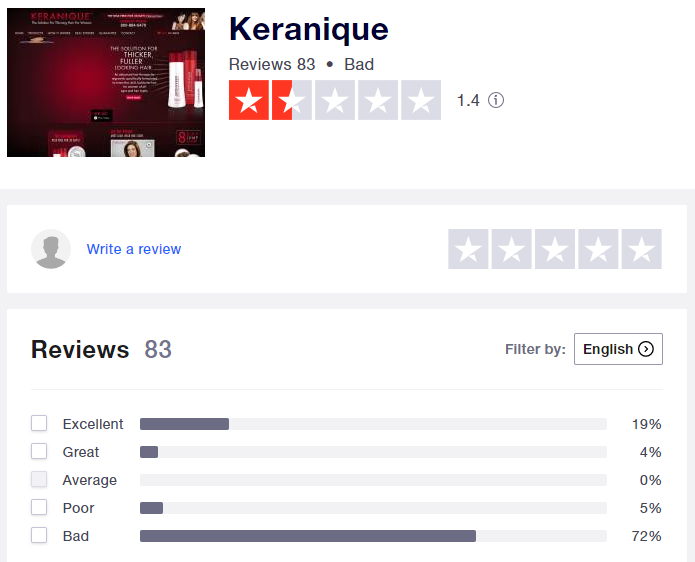 Wondering why their rating is so low? Read some of the Keranique reviews:


There is a clear pattern here. Keranique puts its customers on an auto-billing program that is nearly impossible to cancel. Even if it isn't a scam, as pointed out by some customers, it is still a shady business practice at best, and shows how unhelpful their customer service is. This company does NOT care about its customers, plain and simple.
Read more of the reviews here.
Another thing to consider is the unclear return policy from Keranique:


Both of these images are taken from the official Keranique website. So, which one is correct? We would appreciate a little consistency, and this guarantee seems to lack transparency. Considering the reviews complaining about not being able to cancel their auto-ship program, we seriously doubt that you will manage to get your money back should you want to. Consider yourself warned.
Hairprin™ Vs. KeraViatin®: Where To Buy
KeraVitain®: If the reviews about Keranique haven't deterred you, their product is available on Amazon and on their website. Once again, we recommend caution as purchasing this product could have you placed on an auto-ship program that will charge you regularly even if you didn't place an order, and the Keranique guarantee lacks clarity.
You can buy Hairprin™ on the Approved Science® website or on Amazon. It comes with a 60-day money-back guarantee so that you can try it for yourself and see if it works for you. If not, no worries! We realize that each person is different, and what works for one may not work for another. If, for whatever reason, you are not satisfied with your results, you can return the product for a full refund.
Hairprin™ Vs. KeraViatin®: The Bottom Line
| | | |
| --- | --- | --- |
| | Approved Science® Hairprin™ | Keranique KeraViatin® |
| Ingredients | High-quality & in significant doses | Includes proprietary blend to obscure the amounts of certain key ingredients |
| Vegan Certification | Vegan and cruelty-free | Neither vegan nor cruelty-free |
| Formulated For | Men + women | Women only |
| Company Reputation | Excellent | Shady |
| Customer Reviews | Positive | Mixed |
| Auto-billing Program | None | Yes, and difficult to cancel |
| Return Policy | 60-day money-back guarantee | Unclear and lacks consistency |
| No. 1 | YES! | NO. |
In conclusion, it is clear which hair growth supplement reigns supreme. With high-quality, clinically-tested ingredients in effective doses, an excellent reputation, positive customer reviews, and a 60-day money-back guarantee, Hairprin™ is without a doubt the #1 choice for achieving your hair goals. Try it today with 10% off!