If you're experiencing hair loss or thinning, you're not alone. Losing hair can be a distressing experience, affecting your self-esteem and identity. Hair loss is common, whether it's due to hormonal changes, nutritional deficiencies, stress, or genetics. In fact, 50% of men experience balding before age 50, and between the ages of 30-40, 3-12% of women experience visible hair loss (1).
Luckily, Approved Science® Hairprin™ offers a solution. In this blog, we'll take a closer look at this supplement and share real Hairprin™ reviews from customers who have used it. So, if you're looking for a way to combat hair loss, keep reading to learn more about Hairprin™.
Hairprin™ Reviews: What do our Customers Say?
Unbiased reviews are invaluable when attempting to determine if a product is truly effective. The Hairprin™ reviews featured here are exclusively sourced from Amazon shoppers with confirmed purchases.
Great Product

I have noticed my hair seems a lot healthier and has more shine. It used to feel like straw but now it is more manageable and feels smoother. Thanks.

Barbara – Verified Amazon Customer
Amazing Product!

Definitely recommend this product for anyone wanting to see real hair growth quickly. In my opinion, this is great value for the money!

Debbie S. – Verified Amazon Customer
Amazing Benefits

Within 2 weeks of using this product, my hair felt healthier and stronger. I noticed significant growth after 1-2 months. I also noticed that it contains ingredients with great benefits, not just for hair but for overall health.

Chris – Verified Amazon Customer
Does Hairprin™ Have Any Side Effects?
The ingredients in Hairprin™ are all natural and should not cause any side effects. However, It's important to always read the label carefully before taking any supplement, and consult with your doctor if you are unsure about any ingredients or possible side effects.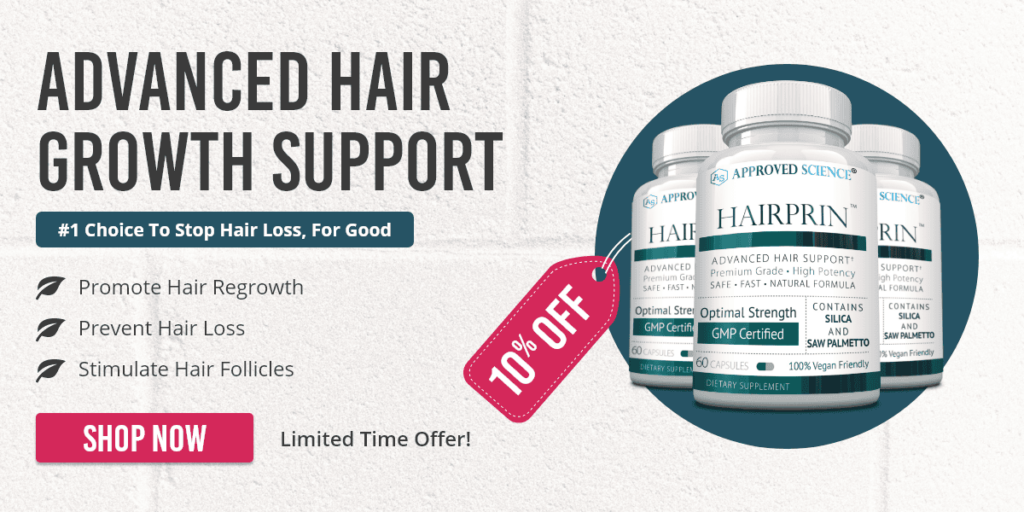 Is Hairprin™ Safe?
At Approved Science®, we are committed to delivering products of the highest quality and purity. All ingredients undergo rigorous third-party testing to ensure quality, purity, and safety. We take pride in adhering to strict cGMP guidelines throughout the entire production process, ensuring that each product is safe for consumption. Our ingredients and dosages are carefully chosen based on the latest scientific research. At Approved Science®, you can trust that our products are not only effective but also of the highest quality and safety.
What Ingredients Are In Hairprin™?
All the ingredients in Hairprin™ are clinically-proven to target hair loss, as well as promote stronger, healthier hair growth.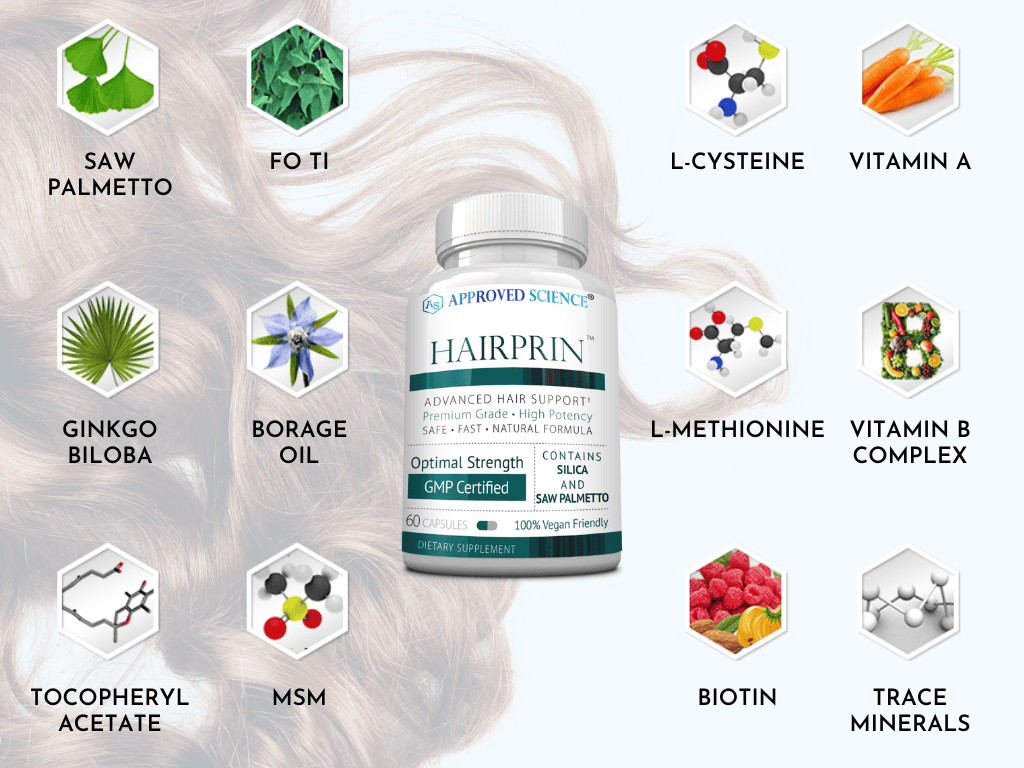 How Much Does Hairprin™ Cost?
We offer a range of options to suit your needs, including a single bottle for $49.95. We also offer a 3-bottle package priced at just $31.95 per bottle, making it a great option for those who want to try Hairprin™ for an extended period of time. But if you really want to maximize your savings, our 6-bottle package is the way to go, at just $23.30 per bottle.
Where Can I Buy Hairprin™?
Hairprin™ can be purchased directly on our website, or through the Approved Science® Amazon store. We recommend you order it soon, though – it's such a popular item that it often sells out fast!
Hairprin™ Reviews: Shop Today And Save 10%!
Whether you're struggling with hair loss, thinning hair, or simply looking to improve the health of your hair, Hairprin™ is a safe and effective solution that can help you achieve your hair goals. With its proven track record and natural approach to hair health, it's no wonder that so many customers have chosen Hairprin™ as their go-to hair supplement. Try Hairprin™ with 10% off today and join the many satisfied customers who have seen real results!