Nervprin™ is a powerful combination for combatting and relieving discomfort caused by nerve damage. This unique formula aims to ease tingling and burning sensations in the hands and feet as well as eliminate pain and reduce inflammation. Many people have found relief through the natural herbs, vitamin, minerals, and amino acids in Nervprin™. Let's see what the Nervprin™ customer reviews on Amazon (1) have to say about this product. . .
Nervprin™ Reviews
"I've had years of nerve pain in my foot and this has actually given me much relief! I used to go through 3-7 days of constant agony, but after using this product I have pain for only 1-2 days every couple of weeks. You cannot know how wonderful this is if you've never experienced this situation. I would tell anyone to give it a try if they have neuropathy pain. A great deal at buy 3, get 3 free!"
-WL
"Acute foot pain virtually disappeared with this product. Recurring sleep pain in soles of feet disappeared with this product. No side effects were noted."
-Dr. Philip Roos

"It helps. I like Nervprin; ingredients are good. If you have tingling or burning in your feet, this product will help.
-Patricia Crosson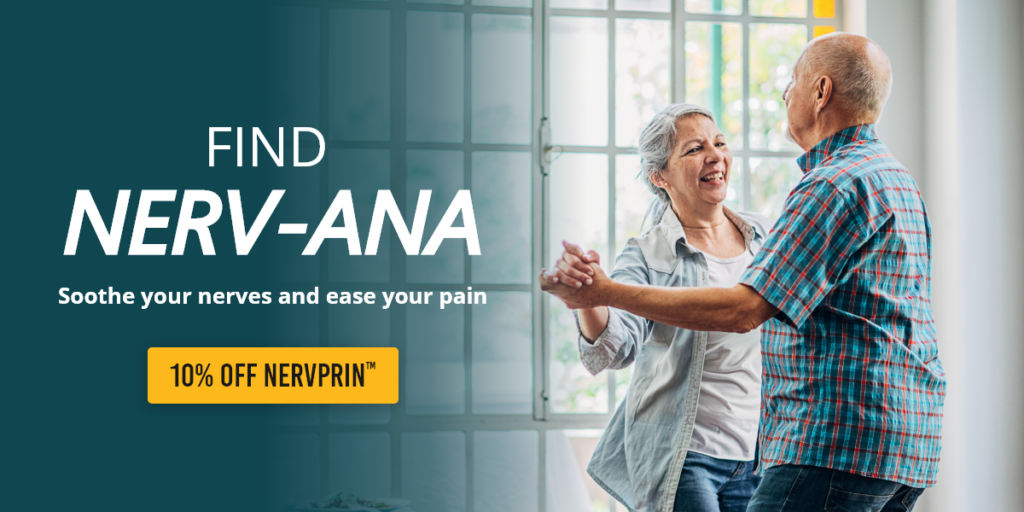 "Nervprin works and reasonable price. Easy to swallow. My sciatica is better 80%."
-Hannah
"No noticeable improvement to tingling in bottom of feet."
C Mack Clark
Wait, was that a negative Nervprin™ review?
It was indeed. I'm not trying to blindside you with the shining light of Nervprin™ reviews to make you buy our product. The truth is that sometimes there are negative Nervprin™ reviews. At Approved Science®, we recognize that everybody is different and what works for some, may not work for all. This is why we created our satisfaction guarantee. Any product purchased from Approved Science® can be returned within 60 days for your money back (excluding shipping), even if you're only returning empty bottles. With our satisfaction guarantee in place you don't have to worry about wasting your money if you fall into the small percentage of people who do not see a benefit from the product.
Why Are Nervprin™ Reviews So Positive?
A product's formula is largely responsible for how effective it is. However, when it comes to supplements, there are other factors involved. Approved Science® ensures that all ingredients are tested for quality and purity in order to allow the formula to work. Each batch is tested by a third-party to certify that what is in each capsule is what is claimed on the label. Additionally, Nervprin™ and all Approved Science® products are manufactured in an FDA-registered lab that follows the GMP guidelines.
Nervprin™ Ingredients
All the ingredients in Nervprin™ are clinically-proven to correct deficiencies, target nerve pain, and support nerve function. With B Vitamins and Magnesium to support nerve function (2,3), Boswellia Serrata Extract to relieve pain and promote peripheral nerve regeneration (4), BioPerine® to improve absorption (5), and more, this science-backed formula offers comfort to many individuals suffering from neuropathy. For an overview of the ingredients in Nervprin™, see the image below or click the image to view the details on the Nervprin™ product page.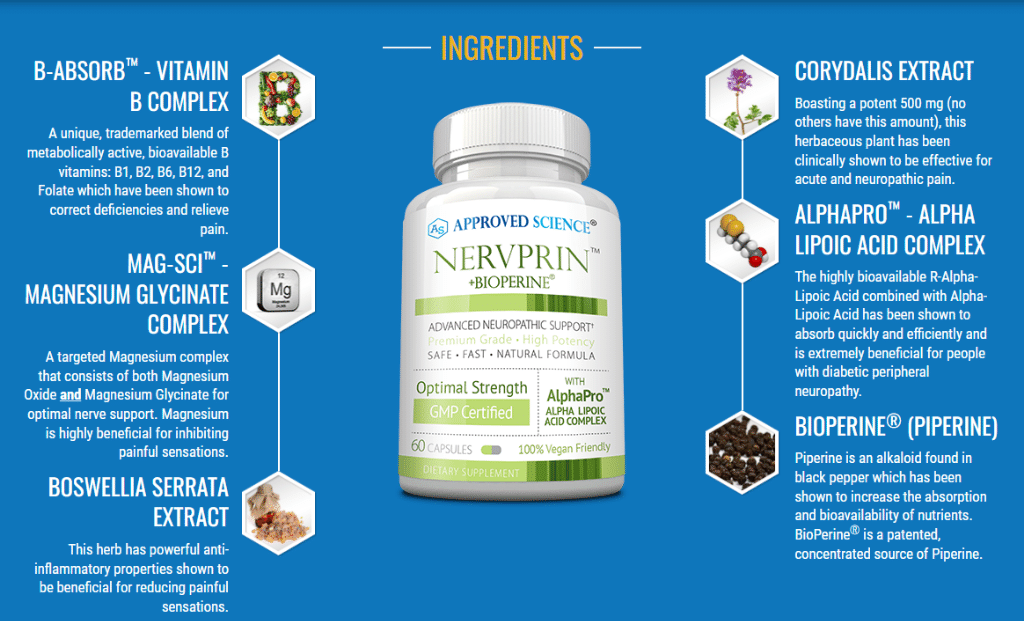 Should I Take Nervprin™?
Based on Nervprin™ customer reviews, this product can help with nerve pain in the hands and feet, as well as fibromyalgia and sciatica. Nevertheless, if you are experiencing any of these conditions, you should discuss Nervprin™ with your doctor before taking the supplement. The same can be said for any supplement. Only a qualified professional who knows your unique health condition can properly advise you regarding your treatment plans.
Nervprin™ Review: Price
The price of Nervprin™ ranges from $23.30 to $49.95 per bottle. When it comes buying Nervprin™, the more you buy, the less you pay per bottle. For the best savings, you can order a 6-month supply of Nervprin™, though 3-month and 1-month supplies are also available.
>>>Want an even better price? Click here for 10% off Nervprin™!
Nervprin™: Where To Buy
Nerprin™ is available from the Approved Science® website or Amazon storefront. These are the only two places where you can buy Nervprin™ and be protected by our 60-day money back guarantee. If you're ready, click the banner below to buy Nervprin™ now.