If you've ever felt the burning sensation in your chest or the bitter taste in your mouth caused by acid reflux, you know how unpleasant it can be and how hard it can be to fall asleep after dinner. You want the feeling to go away and you never want to feel that way again. This is why Approved Science Acid Reflux Support was created. Since its release over 4 years ago, our Acid Reflux Support supplement has been actively helping to reduce the frequency and intensity of acid reflux symptoms in individuals with gastroesophageal reflux disease (GERD) and helping them get a good night's sleep. Keep reading to see what our customers have to say about this product (1).
Approved Science® Acid Reflux Support Reviews – Real People, Real Results
---
---
---
*Disclaimer: Individual results may vary. Do not stop medication without your doctor's instruction. Always consult with your doctor before taking any supplement.
---
---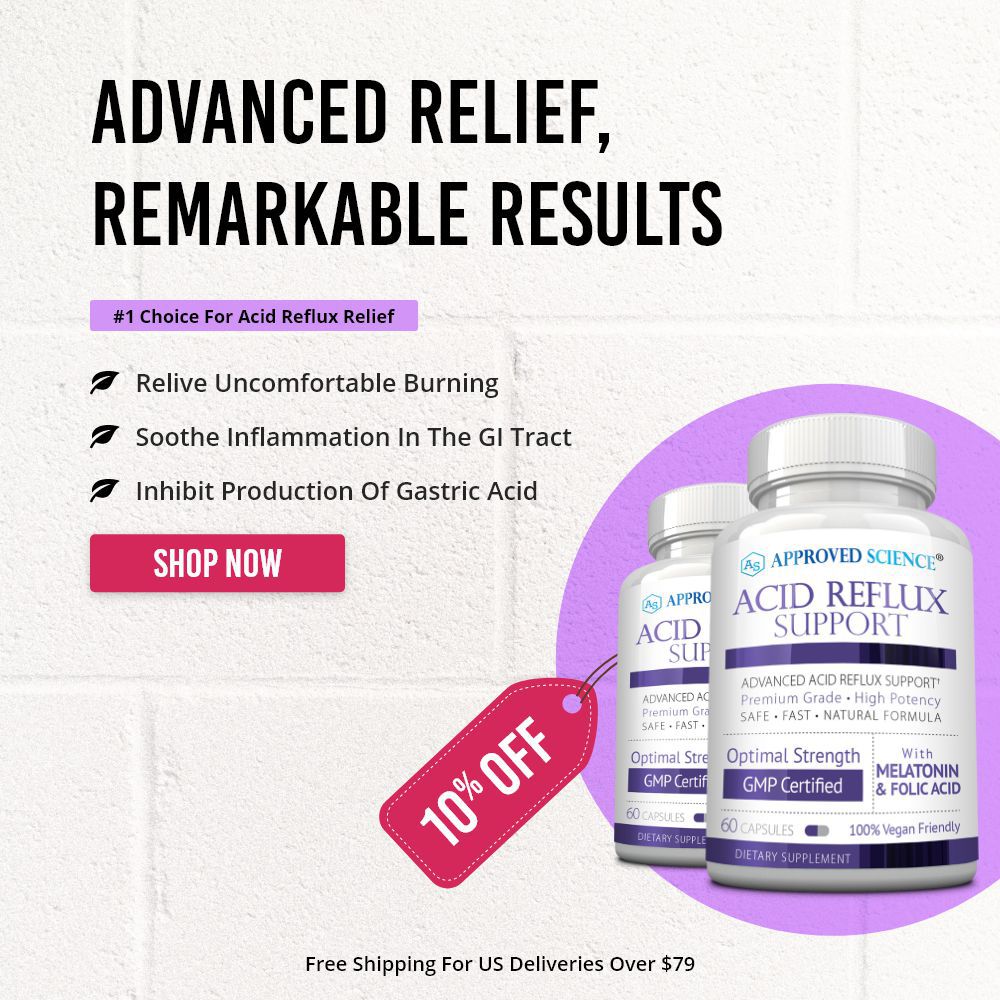 What Makes Approved Science® Acid Reflux Support So Effective?
The effectiveness of Approved Science® Acid Reflux Support can be attributed to its dual-action mechanism, safe manufacturing, and strong ingredient list.
Targeted Dual-Action Response: Not only does Approved Science® Acid Reflux Support aim to alleviate the discomforting symptoms of acid reflux, but it also focuses on the root cause, providing long-term protection and supporting healing of the gastrointestinal (GI) tract. This dual-action approach ensures both immediate relief and lasting protection.
Safety and Quality: The product is manufactured in a top-quality, cGMP certified, and FDA licensed laboratory environment, ensuring its safety and efficacy.
Clinically Proven Ingredients: Studies and publications from esteemed journals such as Alternative Therapies in Health and Medicine, the Pharmaceutical and Biosciences Journal, and the International Journal of Molecular Sciences have highlighted the benefits of the ingredients present in this product. Approved Science® Acid Reflux Support includes powerful ingredients such as Melatonin which helps regulate the production of gastric acids, 5-HTP to help reduce pain, D, L-Methionine fight inflammation, and Marshmallow Root to help reinforce the GI's protective barrier against against stomach acids.
>>>Learn more about the ingredients in Acid Reflux Support <<<
Approved Science® Acid Reflux Support Side Effects
Approved Science® Acid Reflux Support uses safe ingredients that are third-party tested to ensure purity. The likelihood of any side effects is rare, though the product does contain Melatonin which can cause mild effects such as diarrhea, which one reviewer claims to have experienced (1). If for any reason you are unsatisfied with the results of the product, you are entitled to redeem the Approved Science satisfaction guarantee.
What Is The Satisfaction Guarantee On Approved Science® Acid Reflux Support?
We recognize that every person is unique and their experience with each supplement will be unique. All products by Approved Science are backed by a 60-day 100% money-back guarantee (excluding shipping). If you don't experience the positive results that Acid Reflux Support is known for then you can contact our customer service team in order to arrange your refund.
Should I Buy Approved Science® Acid Reflux Support?
This is a question for your doctor. If you have symptoms of acid reflux or have been diagnosed with GERD then we recommend consulting with a your health care advisor to discuss the option of taking Approved Science® Acid Reflux Support to help soothe your GI tract and inhibit the production of gastric acids that cause acid reflux.
Approved Science® Acid Reflux Support – Where To Buy
Approved Science® Acid Reflux Support can be bought from the official Approved Science® site (you're on it now!) or through the Approved Science® Amazon storefront. For the best deals, we recommend making your purchase by clicking the button below for a 10% discount and subscribing to our email list for more deals in the future.
Once you experience the results for yourself, don't forget to add your testimonial to the Approved Science® Acid Reflux Support reviews on Amazon and social media!