Menopause can be an uncomfortable and challenging transition for many women. Hot flashes, night sweats, fatigue, and mood swings are just some of the symptoms that accompany this natural biological process. To help ease the discomforts of menopause, many women turn to high-quality menopause supplements like Menoprin™ and Menoquil™. But with so many menopause supplements on the market, it can be difficult to know which one is right for you. In this blog post, we will compare Menoprin™ vs Menoquil™ and help you decide which menopause supplement is best for your needs.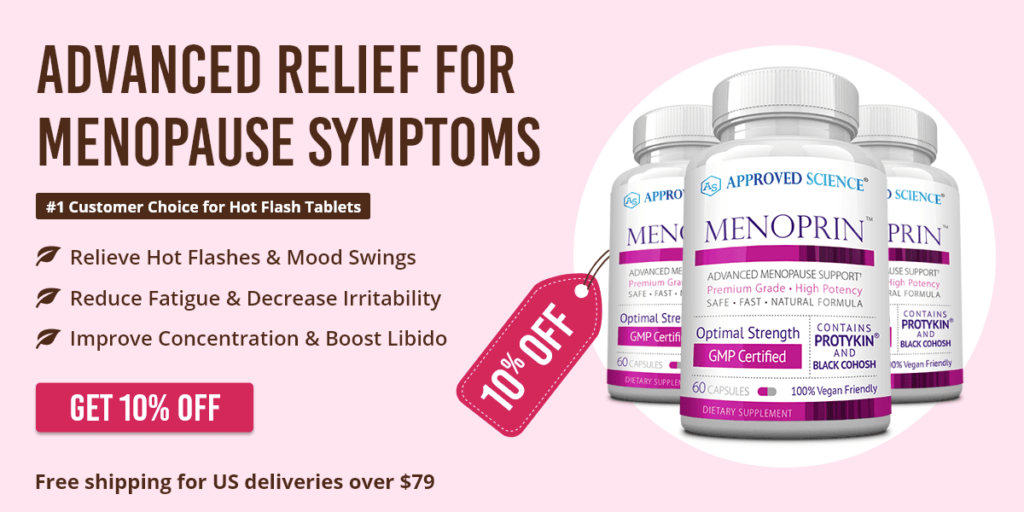 Ingredients To Look Out For In An Effective Menopause Supplement
The secret to a top-quality menopause supplement is the formula. It should provide a synergistic combination of ingredients that individually and together help to improve menopausal symptoms. These ingredients are must-haves when looking for an effective menopause supplement:
Black Cohosh
Helps to reduce hot flashes and night sweats as well as improve sleep (1).
Chasteberry
Works to help stabilize hormones and ease mood swings (2).
Red Clover
Reduces hot flashes, increases bone mineral density, and improves blood circulation (3).
Soy Isoflavones
Important for regulating estrogen levels and promoting bone health (4).
DIM (Diindolylmethane)
Improves the hormonal balance in women's bodies by shifting the way that estrogen is metabolized (5).
Soy Lignans
Helps treat hot flashes and night sweats that often accompany menopause (6).
Wild Yam
Helps to balance hormone levels. Works to reduce hot flashes and alleviate vaginal dryness (7).
Vitamin E (Tocopheryl Acetate)
An antioxidant that helps reduce the frequency and intensity of hot flashes (8).
Protykin®
Rich in phytoestrogens to help regulate estrogen levels and improve menopause symptoms (9).
Passion Flower
Helps to improve irritability, restlessness, and difficulty sleeping (10).
Boron
Increases estradiol levels in postmenopausal women (11).
Zinc
Zinc deficiencies are linked to poor bone density, especially in post-menopausal women (12).
Rhodiola Rosea
Helps to alleviate fatigue, mood swings and other symptoms associated with menopause (13).
Menoprin™ vs Menoquil™ Ingredients
| | | |
| --- | --- | --- |
| | Menoprin™ | Menoquil™ |
| Rhodiola Rosea | 440mg | None |
| Black Cohosh | 400mg | 20mg |
| Chasteberry | 200mg | 75mg |
| Red Clover | 200mg | Contains 550mg of Red Clover Powder and 250mg of Red Clover Extract |
| Passion Flower | 100mg | None |
| Soybean Ligans | 100mg | 25mg |
| Wild Yam | 70mg | 50mg |
| Soy Isoflavones | 50mg | 25mg |
| DIM | 30mg | None |
| Boron | 10mg | None |
| Protykin® | 4mg | None |
| Zinc | 4mg | None |
| Vitamin E | 2mg | None |
The table shows that Menoprin™ contains more ingredients and higher dosages of some ingredients like Rhodiola Rosea Extract, Black Cohosh Extract, Chasteberry Powder, Soybean Ligans, Wild Yam, Soy Isoflavones, DIM, Boron, Protykin® Extract, Zinc, and Vitamin E, which could suggest that Menoprin™ is a more comprehensive menopause supplement. On the other hand, Menoquil™ has a different combination and dosage of some of these ingredients, which may suit some individuals better. It is also important to note that although Menoquil™ has a higher dose of Red Clover, this is not necessarily optimal. There have been recorded cases of doses of 250mg and above of Red Clover causing adverse reactions (14), (15). Ultimately, the effectiveness of these supplements would depend on factors specific to each individual.
Menoprin™ vs Menoquil™: Day vs Night
Menopause symptoms can vary throughout the day, with different experiences during the day and at night. Night sweats, hot flashes, and trouble sleeping are common issues that can creep in at night. That's why it's essential to have a formula tailored to meet your unique needs. Unlike Menoquil™, which only offers one product, Menoprin™ has a separate night formula that targets nighttime symptoms. The benefit of a night formula is that its ingredients are specifically chosen to alleviate symptoms that are more prevalent at night. Menoprin™ PM is expertly formulated with Valerian, Hesperidin, and Melatonin to improve sleep, night sweats, and hot flashes (16), (17), (18). It also includes Calcium, Magnesium, and Potassium, which are vital for maintaining bone density and lowering the risk of osteoporosis (19), (20), (21).
Menoprin™ vs Menoquil™: Reviews
If you're considering purchasing a product, reading genuine customer testimonials can be helpful in deciding whether or not to give it a try. To ensure a fair comparison of reviews for both products, we turned to Amazon to read unbiased reviews from verified customers.
Menoprin™ Reviews
"Excellent product! No more hot flashes and no more headaches!" - Starlight2005, Verified Amazon Customer
"I'm finishing up my first bottle and I can tell it's helped ease some of my menopause symptoms. I'm less irritable, my energy is better and I'm starting to sleep better as a result. " - Kari, Verified Amazon Customer
"This really works and fast. Highly Recommend." - Jocelyn, Verified Amazon Customer
Menoquil™ Reviews
"I noticed immediately that my night sweats diminished. My hot flashes aren't as bad and my mood has definitely gotten better. I haven't lost the belly fat (weight gain) nor has it given me any more energy. But it has only been a couple weeks on this so far!" - Tonya Beebe, Verified Amazon Customer
"Best I have ever used and well worth the money. I tried multiple of different stuff.
This really works." - Shenista Drinnon, Verified Amazon Customer
"Although it's pricier than other products, this has provided me the best results for hot flashes and night sweats. will continue until I get through this season in my life!" - Cindi Donahue, Verified Amazon Customer
Menoprin™ vs Menoquil™: Safety And Reputation
Menoprin™ is produced by Approved Science®, a well-established manufacturer with a great reputation for producing top-quality, effective products that are backed by clinical research. All of the Approved Science® products are manufactured in the US in a facility that is cGMP-certified and all ingredients undergo strict third-party testing to ensure purity, and safety. The formula of Menoprin™ has been expertly formulated to deliver optimal results.
Although not made clear on their website, Menoquil™ is manufactured by Pharmaxa Labs. They specialize in creating condition-specific supplements and have a small range of products. Without a specific website, it was hard to collect all the information regarding Pharmaxa Labs and their practices, but there were some important points mentioned on the Menoquil™ site. Menoquil™ is produced in the USA in a GMP-certified facility. It claims to be lab-tested, although it is unclear if this means the ingredients are independently third-party tested.
Menoprin™ and Menoquin™ are likely safe for most people, but it is always advised to speak to your doctor before taking a new supplement, especially if you have an existing medical condition or are on any other medication.
Where To Buy Menoprin™ Or Menoquil™
Menoprin™ can be conveniently purchased directly from the Approved Science® website or Amazon, where you can choose to purchase either the day or night formula separately or opt for both (22). There are also package deals available to help you get the most savings on your purchase. Approved Science® offers a 60-day money-back guarantee if you're not completely satisfied with the results of Menoprin™. Menoquil™ is available for purchase on Amazon and the Menoquil™ website (23). They also provide a 60-day money-back guarantee, just like Approved Science®, if you're not happy with the product.
Still can't choose? Get 10% off Menoprin® when you buy directly from the Approved Science® website, plus you can get free shipping for US deliveries over $79!