Anyone who suffers from gout is likely to seek out sources of relief. Many people choose to try natural supplements in addition to dietary changes in order to maximize their potential of flushing out uric acid and preventing gout flare-ups. However, it can be difficult to figure out which supplements to try. If you're wondering what the difference is between the highly-recognized Nutrigout Gout and You Vs Uric Acid Flush by Approved Science®, you're in luck. This post will answer all your questions about how these two products compare.
What Is Nutrigout Gout And You?
NutriGout Gout and You is a dietary supplement formulated to assist individuals in managing the symptoms associated with gout. The supplement combines several natural ingredients including Turmeric Root, Celery Seed, Dandelion Extract, Bromelain, Milk Thistle Extract, and Chanca Piedra, known for their anti-inflammatory, kidney-supporting, and uric-acid-reducing properties. By aiming to lower the uric acid levels in the body, NutriGout seeks to provide relief from the pain, swelling, and discomfort that accompanies gout.
What Is Uric Acid Flush?
Approved Science® Uric Acid Flush is designed to combat gout by addressing high uric acid levels, a root cause of gout flare-ups. The supplement features a blend of natural ingredients like Tart Cherry, Garlic, Artichoke, Milk Thistle, Turmeric, and more, all of which contribute to reducing uric acid production and promoting better kidney and liver function for effective uric acid flushing. Moreover, it also aims at relieving the pain and inflammation associated with gout. With its comprehensive formula, Approved Science® Uric Acid Flush intends to provide a robust solution for individuals looking to manage their gout condition effectively.
Which Has The Better Formula?
Nurtigout offers a 750mg per 1 capsule serving, 700 of which is in a proprietary blend. It can be purchased in a combo package with Tart Cherry that also provides 750 mg. However, the extract is standardized 4:1 and is said to be the equivalent of 3000 mg. On the other hand, Approved Science® Uric Acid Flush provides over twice the amount of mg and is transparent about the dosage of each ingredient. Furthermore, you can buy Uric Aid Flush with Approved Science® Tart Cherry which provides 1500mg of Tart Cherry extract, but is also standardized 4:1 to make it equivalent to 6000 mg of Tart Cherry.
Both supplements aim to reduce uric acid levels in the body to manage gout. Milk Thistle, Turmeric, and Dandelion are common ingredients in both supplements, indicating a shared understanding of some beneficial compounds for gout management. However, the other ingredients vary, likely leading to different secondary benefits and possibly a difference in effectiveness.
However, Approved Science® Uric Acid Flush offers a more extensive formula and therefore seems to have a more extensive list of benefits including promoting healthy organ function, reducing inflammation, and providing immediate pain relief, which might result in a more holistic approach towards managing gout.
🌟Find out more about the Ingredients In Approved Science® Uric Acid Flush🌟
Nutrigout Gout And You vs Uric Acid Flush: Reputation
Both are manufactured by reputable brands and well liked by consumers, though Uric Acid Flush is rated marginally higher than Nutrigout. At the time of writing this, Nutrigout Gout and You has a 4.2 star rating on Amazon (1). Uric Acid Flush by Approved Science® has a 4.3 star rating (2). Neither Nutrigout Gout and You nor Uric Acid Flush have any reported side effects and both products are manufactured in a GMP certified laboratory. However, Approved Science® Uric Acid Flush is third-party tested for purity and Nutrigout makes no mention of third-party testing.
Which Has The Better Price?
While Approved Science® costs more per bottle than Nutrigout, it also provides higher dosages of the active ingredients and might therefore deliver better results. Additionally, even though the comparison of the costs of a one month supply of Nutrigout Gout And You vs Uric Acid Flush might make you want want to choose Nutrigout, it's important to remember that gout management is an ongoing process and therefore, purchasing a one month supply would be short-sighted (especially because both products are backed by a moneyback guarantee from the manufacturer).
When you buy a 3-month combo supply of Uric Acid Flush and Tart Cherry from Approved Science®, the price is discounted down to $24.30 per bottle which is only about $4 more than Nutrigout Gout and You and Tart Cherry. Plus, Approved Science® offers exclusive discounts to our blog readers and email subscribers. For example, click here to save 10% off Uric Acid Flush by Approved Science. With discounts like these, Approved Science® Uric Acid Flush actually comes out to a better price than Nutrigout gout and you.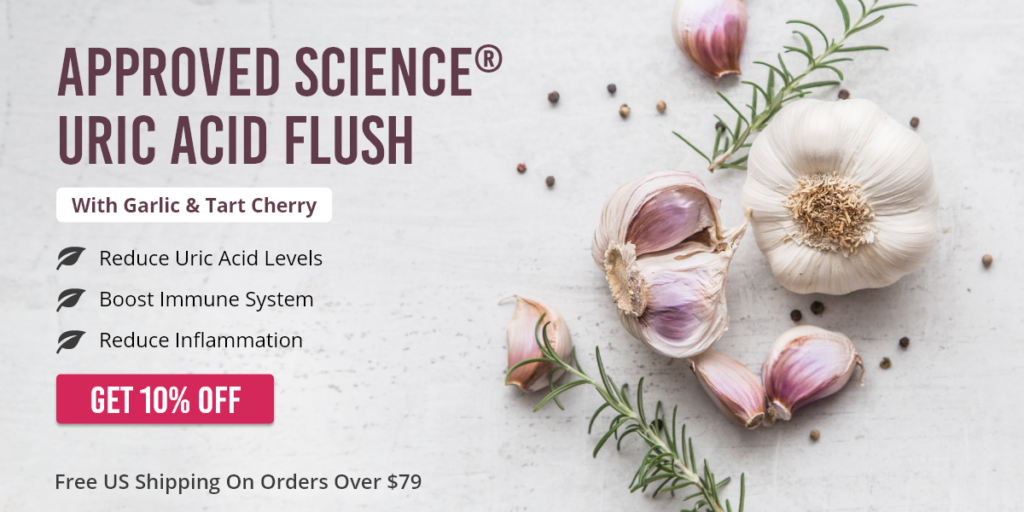 Conclusion: Nutrigout Gout And You vs Uric Acid Flush
While both products are top supplements for managing gout, there are a few ways in which Uric Acid Flush by Approved Science® stands out. Its transparent labeling, higher dosages, third-party testing, and an extensive formula contribute to its slightly higher consumer rating. Furthermore, while initial cost considerations may favor Nutrigout, when thinking of long-term gout management, the discounts and deals provided by Approved Science® make Uric Acid Flush more cost-effective, especially for our readers.
Ultimately, the choice between these two depends on your preferences and needs. However, given the comprehensive benefits, transparent practices, and favorable pricing for long-term use, Uric Acid Flush by Approved Science seems to offer a slightly more holistic solution to gout management. Whatever your choice, always consult with a healthcare professional and remember that supplements are most effective when combined with a balanced diet and a healthy lifestyle.
🌟Want to learn more about Uric Acid Flush? Read success stories here!🌟