If you're looking for an effective solution for joint pain, Jointprin™ might be just what you're looking for. Approved Science® Jointprin™ has helped hundreds of people with joint pain to find relief, sometimes in as little as a week (1). This product is formulated to help rebuild joint strength and density as well as reduce stiffness and swelling. Keep reading for Jointprin™ reviews from customers like you and learn how this product can help you regain your joint mobility!
Jointprin™ Reviews
We love hearing that our supplements have helped people and I'm excited to share with you what our customers have been saying about Jointprin™. From relieving occupationally induced joint pain to enabling working out by keeping joints supple and even reducing pain caused by osteoarthritis, Jointprin™ has an impressive resume. Read it in our customers own words below (2)!
---
"Significant improvement in joint pain. I have worked in construction for most of my life. Having demanding physical jobs over the years has taken it's toll on my joints. Using Jointprin for the past few weeks has reduced my joint pain. I feel more mobile and am able to do activities with ease and less pain." – L. Berry
---
"I am 74 years old and go to the gym every day to walk on the treadmill for one hour. I have taken this product for over a year now and have no joint issues whatsoever. The combination of ingredients helps me to continue to be very active." -Terry
---
"Jointprin has really helped keep my joints supple, especially my shoulders and knees. I am very active and, at 71 years of age, want to stay pain free for as long as I can. Thank you for providing such a great product! I have recommended it to several of my friends." – Deborah M
---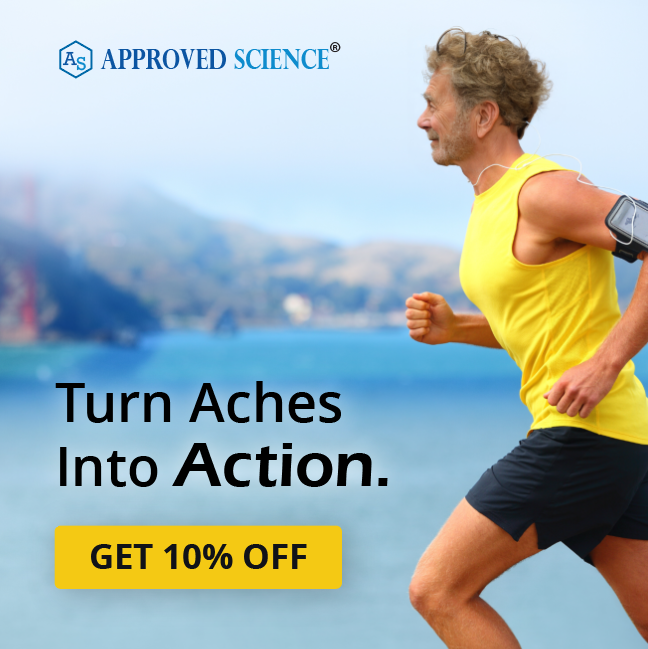 "I was having intermittent knee pain (throbbing) at 47 years old. I decided to try something natural and I'm very skeptical of natural remedies. I decided to try this based on the great reviews. I absolutely had zero pain within 2 months and know that natural products take some time to get in the system. I'm a huge fan of this product, but my only problem is that the pills are not coated,* therefore, swallowing them is somewhat difficult. Other than that, I've had amazing results with this product." – Stephanie Warden
*Good news! We read your comments and the tablets are now coated!
---
"My husband has osteoarthritis. He said that this product works on him so we bought 3 again." – Mari
---
"Really helped to reduce the swelling and stiffness in my fingers." – Bob
---
"I had very uncomfortable joint pain. I started Jointprin and the pain was significantly reduced with a couple of days. To be honest, it could have been a spontaneous remission, although I must say the intense level of discomfort has not returned since taking Jointprin. Jointprin tastes fairly neutral and is easy to swallow. I like the flexibility of dosing. Mostly, I like the formula, as I have have tried others with only a couple of unproven ingredients to poor effect. I plan on continuing my daily Jointprin regimen as a preventive, integrative approach." – Emily Weinstein
How Did Approved Science® Jointprin™ Earn These Reviews?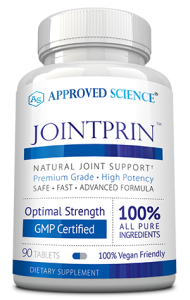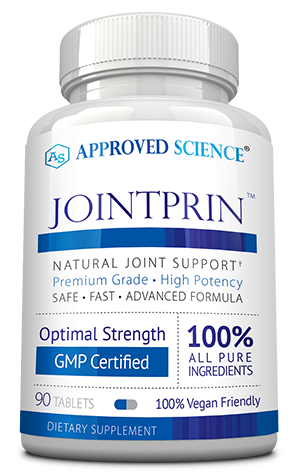 When Approved Science® crafts a new formula, clinical studies are consulted and science plays its part. The formula of Jointprin™ contains clinically supported ingredients aimed at relieving joint pain. It boasts Glucosamine and Mythocondro® (Chondroitin Sulfate) for cartilage maintenance, as well as MSM and numerous plant extracts for combatting inflammation and pain. The formula also includes Turmeric, Hyaluronic Acid, Holy Basil and more for improving overall joint health and mobility. Jointprin™ owes its success to its comprehensive formula that addresses diverse joint health needs to provide pain relief, swelling reduction, and cartilage preservation.
What If Jointprin™ Doesn't Work For Me?
We will admit that there are some Jointprin™ reviews with claims the product did not produce the desired effects. For any customers who don't experience the positive results we've come to expect from Jointprin™, Approved Science® offers a 60-day 100% money-back guarantee (excluding shipping), because we understand that each body is different and everyone responds to supplements differently.
Is Jointprin™ Safe?
At Approved Science®, we are committed to delivering products of the highest quality and purity. Our ingredients undergo rigorous third-party testing to ensure quality, purity, and safety. We take pride in adhering to strict cGMP guidelines throughout the entire production process, ensuring that each product is safe for consumption. Our ingredient selections and dosages are carefully determined based on the latest scientific research, so you can trust that our products are effective as well as safe and high-quality.
Should I Take Jointprin™?
If you're looking for a supplement to ease joint inflammation and support joint mobility, then you should discuss Jointprin™ with your medical advisor. Jointprin™ has no known side effects, contains third-party tested ingredients, and is backed with a 60-day 100% money back guarantee.
Jointprin™ – Where To Buy
If you think the Jointprin™ reviews sound promising and you're ready to take the next step towards improved joint health, you can buy Jointprin™ from the Approved Science® website or through the the brand's Amazon store front. However, buying directly from the Approved Science® website ensures that you get the best deals with the biggest savings. For example, you can buy Jointprin™ by clicking the banner below and receive an additional 10% off your purchase as a "thank you" for reading our blog.