Turmeric is trending and amongst the hundreds of supplements available, Approved Science® Turmeric MD™ stands out from the crowd. Why do people prefer Turmeric MD™ to other turmeric supplements? What makes this supplement so unique? Should you be taking Turmeric MD™ and where can you buy it? Read this in-depth article for Turmeric MD™ reviews, answers to these questions, and more!
Approved Science® Turmeric MD™ Reviews Over The Years

4.5 out 5 stars is a great rating on Amazon. When a product has a 5/5 star rating, it is often because it only has a few reviews – not enough to truly reflect customers at large. When it comes to Turmeric MD™, the product has hundred of ratings and 4.5 out of 5 stars demonstrates that the majority of Turmeric MD™ customers were highly satisfied with the product. Additionally, Turmeric MD™ has been available for several years and the stellar reviews are consistent from year to year! Check them out below:
Turmeric MD™ Review 2023
Approved Science Turmeric with Bioperine helps to reduces arthritic pain.
Turmeric MD™ Review 2022
I have taken turmeric supplements by another manufacturer for three years to reduce inflammation in my knees due to childhood osteochondritis. I found some relief, but when I read the outstanding reviews of this product, I decided to give Turmeric MD a try. I have been taking the supplement daily for almost two months now and find they are noticeably more effective than my previous ones. That has sold me.

Abrubacca, December 2022
Turmeric MD™ Review 2021
I've been having severe degenerative arthritis of the lower spine, mostly L5-S1 many years. Along with osteoarthritis in many other joints. I stopped Ibuprofen when I started Turmeric MD, two plus weeks ago. There has been no need for me to start back with Ibuprofen since then. Turmeric MD takes the edge off of the inflammation pains between times that I take Tylenol, as I was before. I'm very happy with this product so far!

Amazon Customer, August 2021
Turmeric MD™ Review 2020
I originally used Turmeric MD for its anti-inflammatory properties while I had sclerotherapy for varicose veins, for which it was very effective in reducing swelling. Due to the pandemic, I am working from home and sitting more. I was experiencing both lower back pain- originating in the sacroiliac joint, and wrist pain from repetitive computer work. Since taking Turmeric MD, I noticed a drastic reduction in pain – I am sold on the anti-inflammatory properties of Turmeric MD!

Amazon Customer, May 2020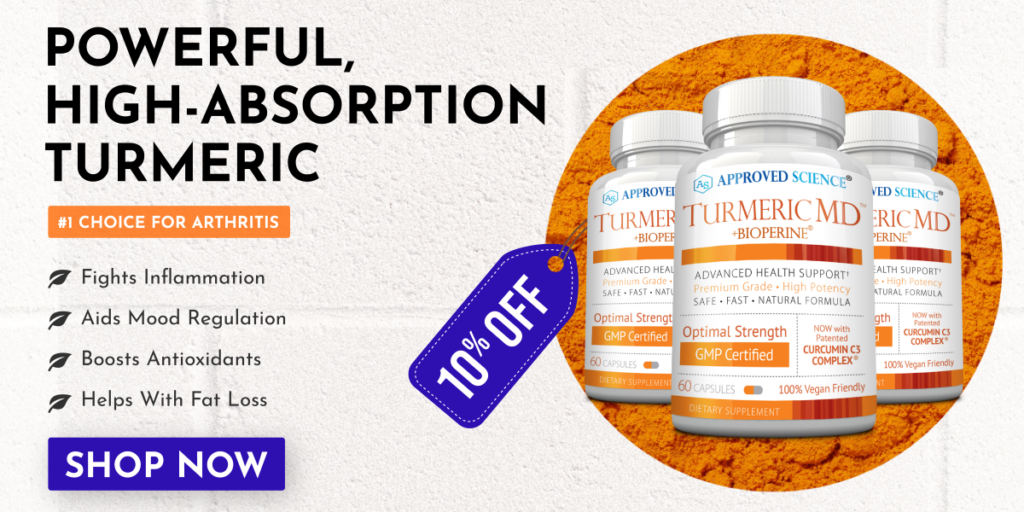 Turmeric MD™ Review 2019
I've been taking this for a month now and have much less joint pain in my knees. I don't notice as much stiffness as I'd been having after sitting for a long time and even my back pain seems to have lessened.

Diane D, June 2019
Turmeric MD™ Review 2018
I like this product because it is without fillers and any other junk that manufacturers insist on putting in vitamins. I try to get as close to the pure vitamin that want to use without chemicals and fillers. I have been using turmeric for a few years now. If you have leg cramps, especially when sleeping, turmeric does help with that problem. Of course, when cramps show up during sleep, the old soap trick under the sheet is the thing that pushes them away in seconds. The package was received when promised and packaged very well. Thank you.

Mary, March 2018
Turmeric MD™ Review 2017
Great product, def alleviates joint pain! plan on continuing this one!

Denise Castro, May 2017
Turmeric MD™ Reviews: Why is it The #1 Choice?

Turmeric MD™ contains high-quality patented ingredients to ensure maximum potency and results. It's boasts 1500 mg of Turmeric extract with Curcumin C3 Complex® which is standardized to 95% Curuminoids. These little polyphenol compounds work hard to counter inflammation by inhibiting NF-kB, the main culprit behind inflammation. Curcumin C3 Complex® received awards from both the Nutritional Business Journal in 2007 and the Functional Ingredients Editor's Choice Award in 2012 – now that's a stellar ingredient! But the list of ingredients has one more member that is no less worthy of special attention: BioPerine®.

The second, and final ingredient in Approved Science® Turmeric MD™ is BioPerine®, which is a patented black pepper extract, standardized to 95% Piperine. There's so much we could say about BioPerine® that we actually wrote a post about the benefits of BioPerine®, but we'll keep it short for you here. BioPerine® is a thermogenic bioavailability enhancer. What this means is that it increases heat in the body which causes the body to better absorb nutrients. This simple addition to a supplement can significantly enhance results. Clinical research has shown that BioPerine® positively affects the absorption of Curcumin (1).
Curcumin + BioPerine® = Better Results
Aside from wanting a supplement with a powerful formula, people also choose Turmeric MD™ because it comes from a trustworthy manufacturer. Approved Science® prides itself on producing science-backed formulas. To ensure safety and quality, all of their products are manufactured in a GMP-certified and FDA-licensed laboratory, as well as made using ingredients that are third-party tested for purity.
Should You Buy Turmeric MD™?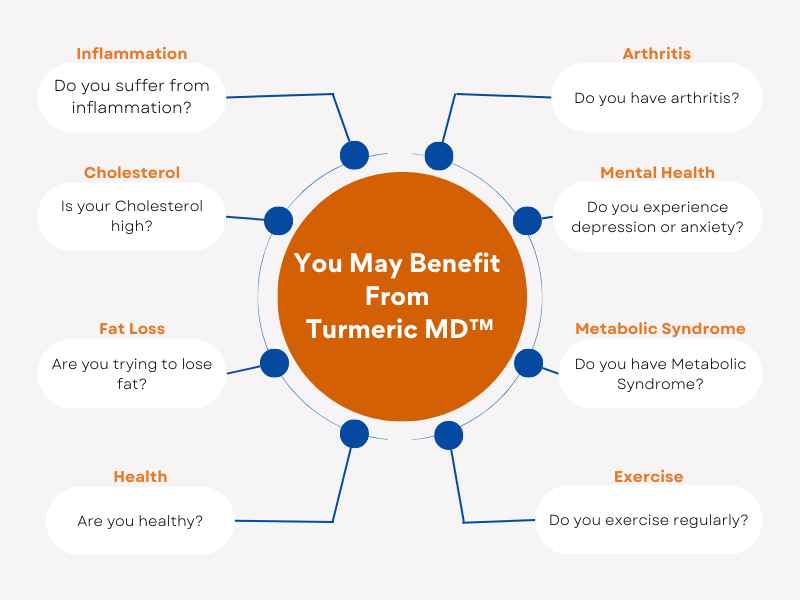 Approved Science® Turmeric MD™ has a wide range of benefits, and chances are that there's some way that Turmeric MD™ can improve your wellbeing. Most people who take Turmeric MD™ take it for the anti-inflammatory and antioxidant benefits of Curcumin. However, the potential benefits of Turmeric MD™ go beyond reducing inflammation. Turmeric can have positive effects on mental health, digestive discomfort, cardiovascular health, fat loss, and post-exercise recovery (2). Even healthy people can benefit from turmeric supplementation (3).
Where Can You Buy Approved Science® Turmeric MD™?
You can purchase Turmeric MD™ online via the Approved Science® website or its Amazon storefront. Want to save money? Click the banner below for a 10% discount!