If you're just hearing of Glutathione, I'm excited for you to learn what this antioxidant can do. It has been appropriately named the "mother of all antioxidants" and is a natural tri-peptide that the body synthesizes on its own. Unfortunately, our Glutathione production levels decrease due to age, poor nutrition, and stress. However, the role of Glutathione doesn't get any less important with age, therefore, diminishing levels of Glutathione allow free radicals to harm cells, which may lead to various types of diseases (1).
Benefits of Glutathione supplementation have been said to include bolstering cardiovascular health, brightening skin, improving toxin elimination, boosting energy levels, strengthening immune system defense, and providing a general anti-aging effect. But does Approved Science® Glutathione deliver on any of these benefits? Let's explore the testimonials of verified consumers of this product.
Verified Approved Science® Glutathione Reviews
According to testimonials from verified customers on Amazon, Approved Science® Glutathione has helped people to relax, think more clearly, reduce inflammation, and sleep better (2). Let's see it in their own words:
"It helped me relax and I felt calm. I am going to continue your product."  - Dee A, January 2023 
"I used this product for whitening my skin and to make me more active, alert and focused for daily activity."  -Kookai, October 2022
"I've been taking Approved Science Glutathione for a month. My brain feels more clear & my pain has been reduced. I have Hashimoto's & believe that this will help on my road to remission."  -Bran Koziol, July 2022

"I take Glutathione knowing it helps reduce inflammation in the body. I tried using another brand, but it was a higher dosage and the result was I developed headaches while taking it. This brand, from Approved Science, seems to agree with my body. Thank you for a great product." -H. Johnson, April 2022

"As your body ages it's ability to produce glutathione diminishes. I wish I would have heard about this before I turned 75!!! My golf game has improved tremendously!!"  Robert DeVaul, November 2021
"I love it. It helped me relax and get a good night's sleep. I highly recommend this product for seniors especially because we need to stay healthy and strong."  -Elena Seamsan Feb 2022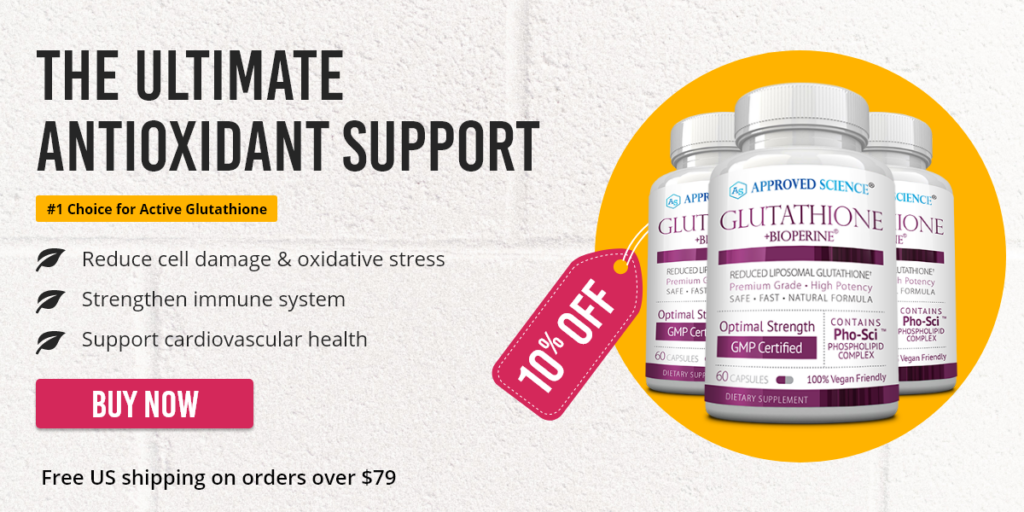 How Did Approved Science® Glutathione Earn These Reviews?
Approved Science® Glutathione provides 500 mg of reduced Glutathione, a dosage within the range of what has been found to be effective (3), but is neither too high nor too low. By basing the dosages on clinical studies and using science as a basis for all our formulas, Approved Science® strives to craft the most effective supplements out there.
To help transport the Glutathione through the body and improve absorption, our formula contains a Phospholipid blend which makes the Glutathione liposomal. Research shows that liposomal Glutathione is absorbed better than non-liposomal Glutathione (4). Additionally, our formula contains Vitamin C which is another potent antioxidant and has been found to help the body reprocess oxidized glutathione back into its active form (5). Therefore, higher levels of Vitamin C are linked to better Glutathione performance. Last but not least, our Glutathione formula contains BioPerine®, which is a concentrated black pepper extract that has been found to increase nutrient absorption and enhance the efficacy of nutritional supplements. All together, Approved Science® Glutathione has a formula that we are proud of and that our customers appreciate.
Should I Buy Approved Science® Glutathione?
Even though Glutathione supplementation is generally regarded as safe and Approved Science adheres to the GMP guidelines, this is a question that is best answered by your personal doctor. It's important to always consult with a qualified professional who knows your health condition and sensitivities before adding any supplements into your diet.
Where Can I Buy Approved Science® Glutathione?
Approved Science® Glutathione can be purchased on the Approved Science® website or through the the brand's Amazon store front. Alternatively, you can take a short-cut to buy Approved Science® Glutathione through clicking the banner below and receive an additional 10% of your purchase. Don't hesitate to take your health to the next level!