Most of us know that we need to eat more protein for our overall health, but did you know that eating more protein can actually make you feel fuller and decrease cravings? Protein is the key when it comes to hitting your weight goals, whether it is losing weight or gaining muscle. In this blog, we have 7 delicious high-protein recipes that will keep you fueled and full!
How Much Protein Should You Be Eating?
Take one look at the internet, and you'll find many differing opinions about how much protein you should be eating. Optimal protein intake depends on factors such as your age, gender, physical activity level, and personal wellness goals. To simplify, here's a quick guide:
You should aim to consume 0.8 grams of protein per kilogram of body weight per day. For example, if you weigh 70 kg, your goal would be to eat 56 grams of protein per day.
If you engage in regular physical activity, you might want to increase your daily protein intake to 1.2 to 2.0 grams per kilogram of body weight (1).
If you are aiming to lose weight, increasing your protein intake can help maintain muscle mass while shedding fat. It can also keep you feeling satisfied and less likely to crave highly processed foods.
Adding in more protein is only one piece of the puzzle. To truly understand your hunger cues and effectively manage them, diving deeper into the realm of appetite regulation can be beneficial. For those curious to explore further, we recommend checking out Approved Science® Appetite Suppressant Reviews.
Sources of Protein
No matter if you are a meat-eater, vegetarian or vegan, there are plenty of animal-based and plant-based protein options available.
Animal-Based Protein – chicken, turkey, eggs, beef, fish, cheese, and Greek yogurt.
Plant-Based Protein -tofu, seitan, quinoa, beans, lentils, edamame, nuts, and seeds.
Delicious High-Protein Recipes
Grilled Chicken Breast with Quinoa Salad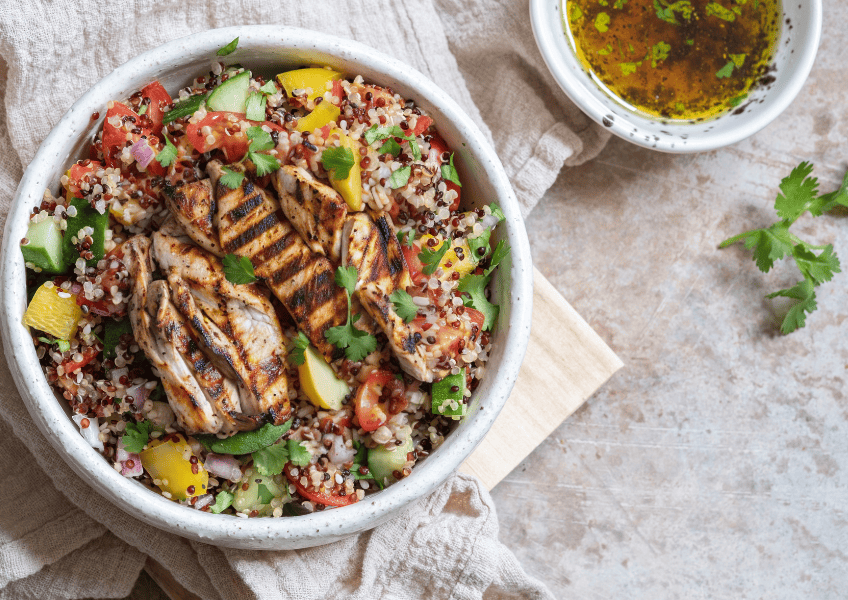 Serves 2
Ingredients:
2 chicken breasts
1 cup quinoa
2 cups water
1 cucumber, diced
1 tomato, diced
1/2 yellow pepper, diced
1/2 cup feta cheese
1 lemon
Olive oil, salt, pepper
Directions:
Grill the chicken breasts with olive oil, salt, and pepper until cooked through.
In a pot, boil the quinoa in 2 cups of water until tender (10-20 minutes). Drain and cool.
Combine quinoa, cucumber, tomato, pepper, feta cheese, lemon juice, olive oil, salt, and pepper in a bowl.
Serve the chicken breast with the quinoa salad.
Turkey and Spinach Meatballs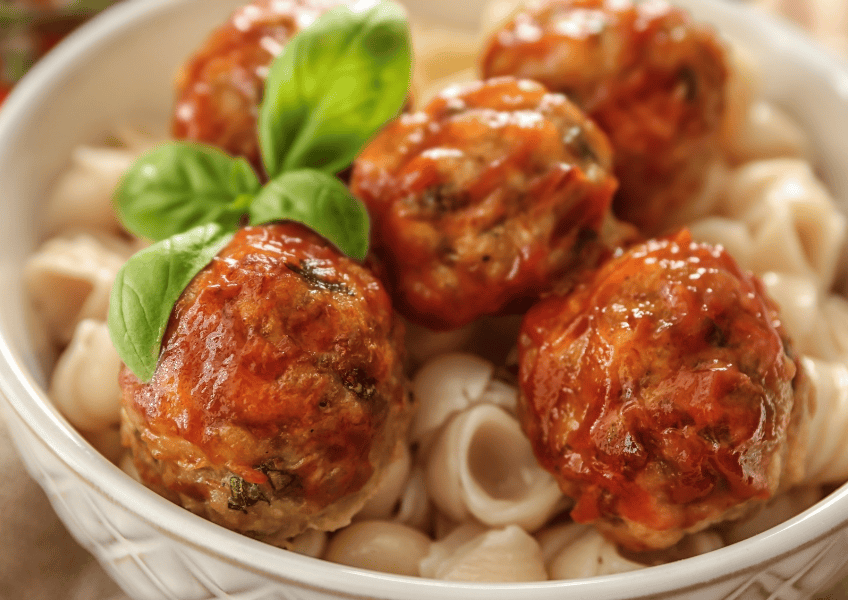 Serves 4
Ingredients:
1 lb ground turkey
1 cup spinach, chopped
1 egg
1/2 cup breadcrumbs
Salt, pepper, garlic powder
1 jar marinara sauce
Directions:
Combine turkey, spinach, egg, breadcrumbs, salt, pepper, and garlic powder.
Form into meatballs and place in a baking dish.
Cover with marinara sauce and bake at 375°F for 25 minutes or until cooked through.
Serve hot.
Chickpea and Spinach Curry (Vegan)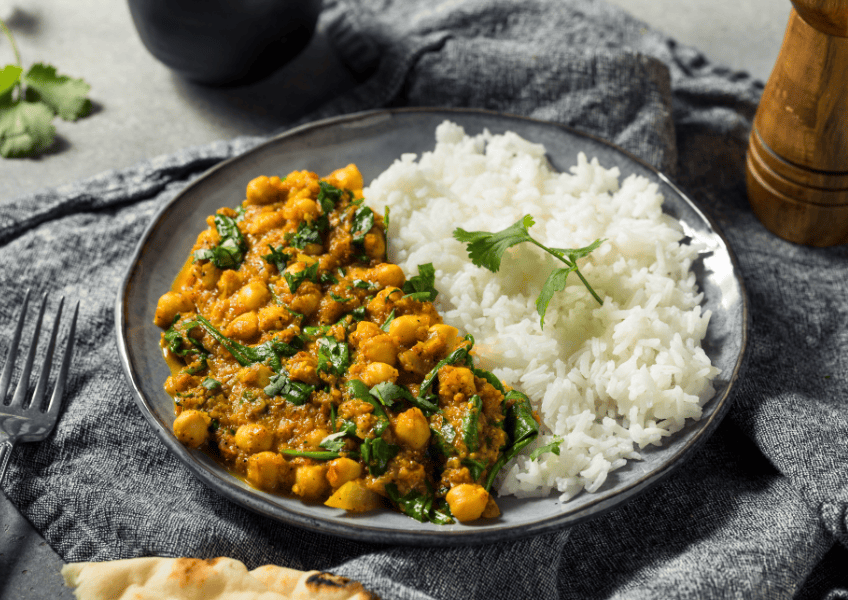 Serves 4
Ingredients:
2 cups chickpeas (cooked or canned)
2 tbsp coconut oil or olive oil
1 onion, finely chopped
2 garlic cloves, minced
1-inch ginger, grated
2 tsp curry powder
1 tsp turmeric powder
1 tsp cumin powder
1 can (400 ml) coconut milk
3 cups fresh spinach, chopped
Salt and pepper, to taste
Fresh cilantro, for garnish
Directions:
Heat oil in a large skillet or pot over medium heat.
Add the chopped onion, minced garlic, and grated ginger. Sauté until the onions are translucent.
Stir in the curry powder, turmeric, and cumin. Cook for another 2 minutes, allowing the spices to release their aromas.
Add the chickpeas and coconut milk. Stir well to combine.
Bring the mixture to a boil, then reduce the heat and let it simmer for 15-20 minutes.
Stir in the chopped spinach and let it wilt in the curry.
Season with salt and pepper to taste.
Serve the curry hot, garnished with fresh cilantro. It pairs perfectly with rice or whole-grain naan.
Salmon with Asparagus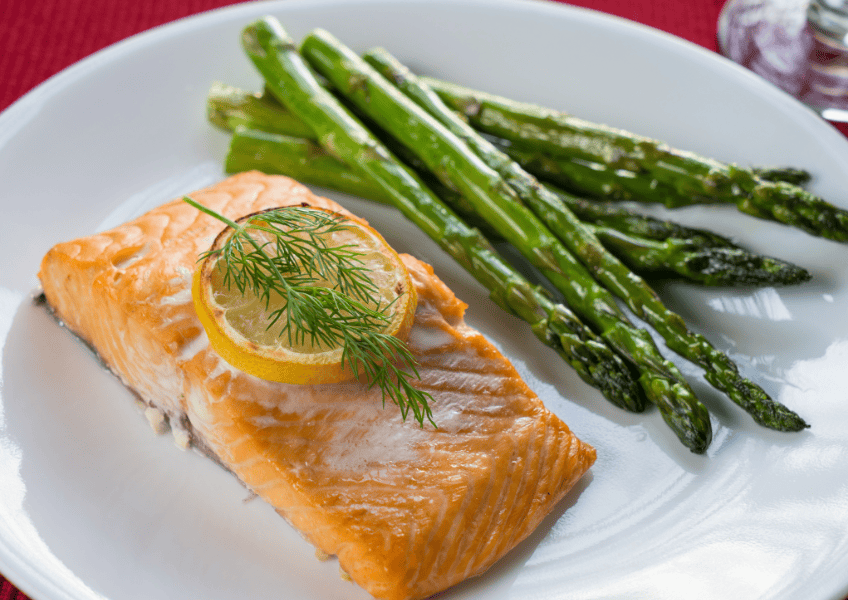 Serves 2
Ingredients:
2 salmon fillets
1 bunch asparagus, trimmed
Olive oil, lemon juice, salt, pepper
Directions:
Place salmon and asparagus on a baking sheet.
Drizzle with olive oil, lemon juice, salt, and pepper.
Bake at 400°F for 15 minutes or until salmon is cooked through.
Serve hot with extra lemon.
Chicken and Quinoa Burgers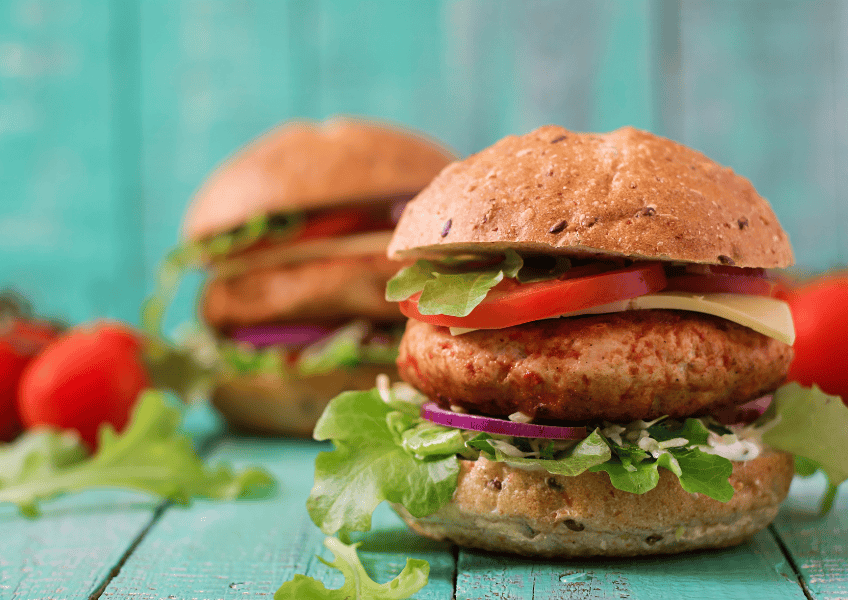 Serves 4
Ingredients:
500 g ground chicken
1 cup cooked quinoa
1 egg
1/2 cup breadcrumbs
1 teaspoon cumin
Salt and pepper
Olive oil
Directions:
Combine chicken, quinoa, egg, breadcrumbs, cumin, salt, and pepper.
Form into patties.
Cook in a pan with olive oil over medium heat until browned on both sides.
Serve on a toasted wholegrain bun with lettuce, tomato, and your favorite burger toppings.
Tofu Stir-Fry And Broccoli Stir-fry (Vegan)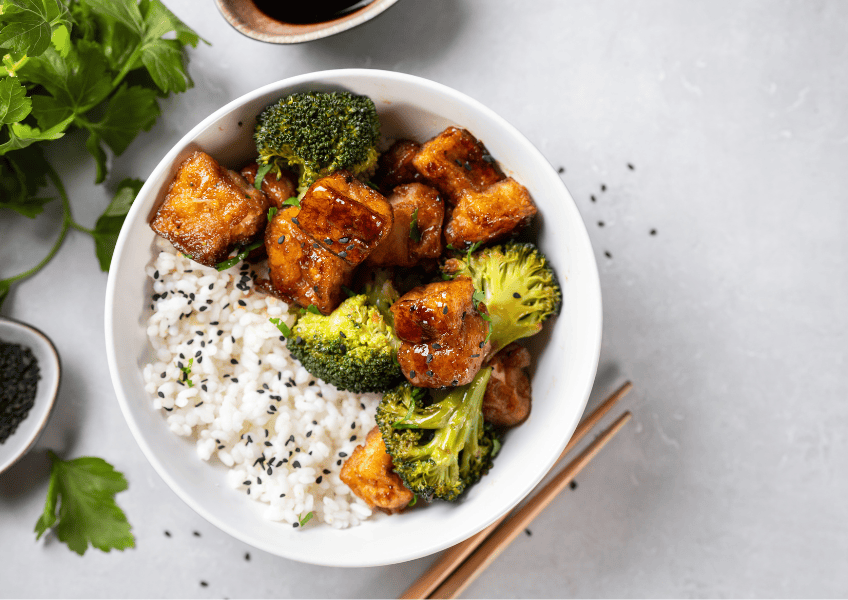 Serves 2
Ingredients:
1 block tofu, cubed
2 cups broccoli
2 tablespoons soy sauce
2 teaspoons sesame oil
1 teaspoon ginger, minced
Salt and pepper
Directions:
Heat sesame oil in a pan over medium heat.
Add tofu and cook until browned.
Add broccoli and cook until tender.
Stir in soy sauce, ginger, salt, and pepper.
Serve hot with rice.
Collagen-Infused High-Protein Chocolate Cake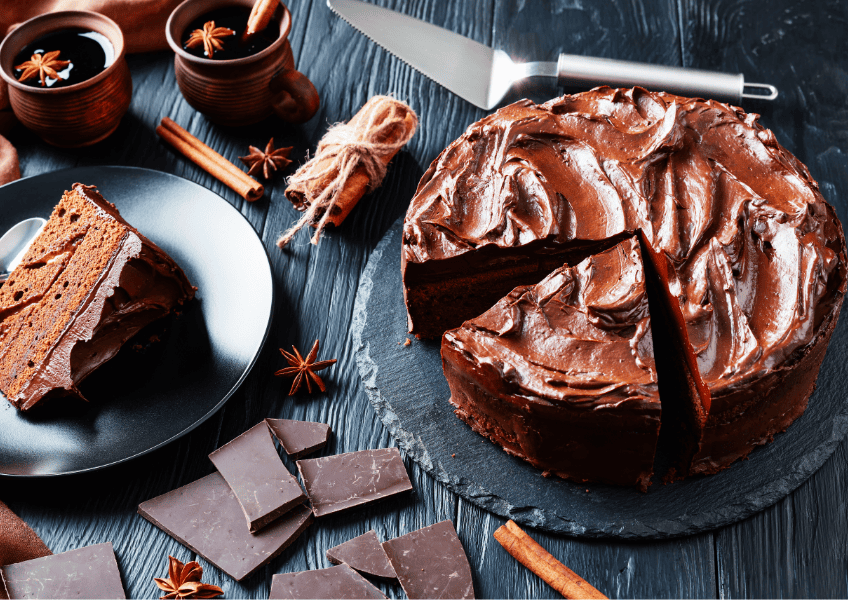 Serves 8
Ingredients:
1 cup all-purpose flour
1/2 cup protein powder (whey or plant-based)
3/4 cup cocoa powder
4 tablespoons collagen powder like Approved Science® Collagen Powder.
1 1/2 teaspoons baking powder
1/2 teaspoon salt
1 cup sugar (or a sugar substitute for a lower-sugar option)
1/2 cup Greek yogurt
4 eggs
1 teaspoon vanilla extract
1 cup milk of choice.
Directions:
Preheat the oven to 350°F (175°C). Grease and flour a cake pan.
In a bowl, whisk together the flour, protein powder, cocoa powder, collagen powder, baking powder, and salt.
In another bowl, beat the sugar, Greek yogurt, eggs, and vanilla extract.
Gradually add the dry ingredients, alternating with the milk, until well combined.
Pour the batter into the prepared cake pan.
Bake for 30-35 minutes or until a toothpick comes out clean.
Allow the cake to cool, then frost with your favorite icing. Consider using a high-protein frosting made with protein powder, cocoa powder, and Greek yogurt for additional protein.
Final Thoughts: High-Protein Recipes
Getting more protein into your diet doesn't need to be difficult, especially when you have some tasty high-protein recipes up your sleeve. However, if you are still struggling to feel full and find yourself reaching for the cookies, it may be worth considering other factors that influence your appetite. Approved Science® Appetite Suppressant has been a game-changer for many. Don't just take our word for it; delve into the numerous success stories from customers who've benefited from its effects. Their testimonials might just inspire you to take the next step in your nutritional journey.
Still Hungry? Discover The Solution!