Collagen is making waves for its ability to sustain skin health and promote healthy joints and bones. The novel nutritional supplement, which may come as a powder or pill, is supported by one primary ingredient, hydrolyzed collagen, that is either derived from cows as bovine collagen or fish as marine collagen. Eco-conscious consumers should not worry much when they hear of these derivatives since the collagen is ethically sourced from these animals. That said, the best collagen smoothie recipes use the hydrolyzed marine collagen variation as its high collagen content and easily absorbable particles improve the rate and results of superior skincare.
Speaking of collagen smoothie recipes, the following article will highlight the benefits of collagen and showcase our best recipes to help you take advantage of effective collagen powders and their skin health-supporting qualities, from maintaining skin tightness and elasticity to improving suppleness.
The Benefits Of Collagen
As discussed, hydrolyzed marine collagen is the most efficient and effective collagen derivative that is taking the health industry by storm. There are thousands of marine collagen products on the market, each with varying degrees of success, but they all intend to offer consumers the following skincare benefits. Bear in mind that using the best collagen powder on the market will improve the time taken to experience these benefits as well as how effective they are, so keep your eyes peeled for products like Approved Science® Collagen Powder if you wish to maintain skin tightness and elasticity as well as experience several of the benefits listed below:
Preserves Skin Structure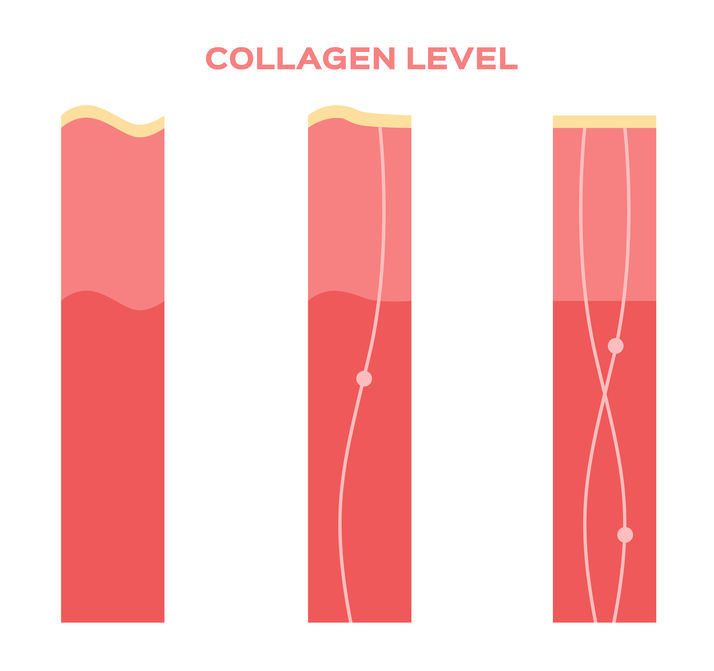 Collagen is a key compound that is naturally produced by the body to support the skin's structural integrity. A collagen deficiency can be very noticeable. Collagen and elastin levels in the body are extremely important for minimizing signs of aging like wrinkles and fine lines as they work with the skin layers to cushion these impacts of aging. That said, not everyone's body is the same and certain biochemical impacts as well as aging cause collagen and elastin levels to diminish. The use of a hydrolyzed marine collagen powder (more than another types of collagen powder) can combat this reduction in naturally produced collagen and elastin, and therefore preserve the skin's structural integrity. Studies have shown collagen to be an important addition to one's diet in order to maintain skin tightness and elasticity. 
Supports Skin Hydration
Beyond supporting the structural health of one's skin, the consumption of collagen powder directly influences the skin's ability to retain moisture. Many assume that collagen could not impact the skin's moisture levels as it is consumed and not applied, however, studies highlight that this is not entirely the case. These reports show that individuals who consume collagen will experience hydrated skin that is more capable of absorbing and retaining moisture. The application of a quality skincare product on top of collagen consumption would then be the most effective solution for hydrated skin.
Provides Antioxidants
Marine collagen is packed with beneficial amino acids such as lysine, glycine, proline, and more. These healthy amino acids naturally occur in the body, however, an influx of them through collagen consumption can improve the rate at which they work with the body to support internal functions and skin health. These amino acids play important antioxidant roles such as fighting free radicals and reducing damages to the cells that could otherwise cause minor issues like rashes, red marks, and moles on the skin or major health problems such as cancer. It would be wise to consume marine collagen for its ability to fight oxidative stress.
How To Use Collagen
The fantastic thing about quality collagen powder is that it can be added to just about anything in your daily healthy meal plan. You can sprinkle the beneficial powder over your breakfast, add it to your tea, or, our best recommendation yet, scoop some into your smoothies. The value of using collagen powder in smoothies is that individuals receive the benefits of the healthy fruits themselves as well as the collagen powder. By adding collagen to a daily fruit smoothie plan, you can maintain skin tightness and elasticity while supporting your overall wellbeing through the absorption of energy-boosting vitamins and concentration-supporting fatty acids and minerals.

This multi-acting solution can be an incredibly nutritious breakfast or an afternoon pick-me-up during office lunch. With a better understanding of the benefits of collagen and how to use it for improved skin tightness and elasticity, let's take a closer look at the best collagen smoothie recipes that you can start making today!
The Best Collagen Smoothie Recipes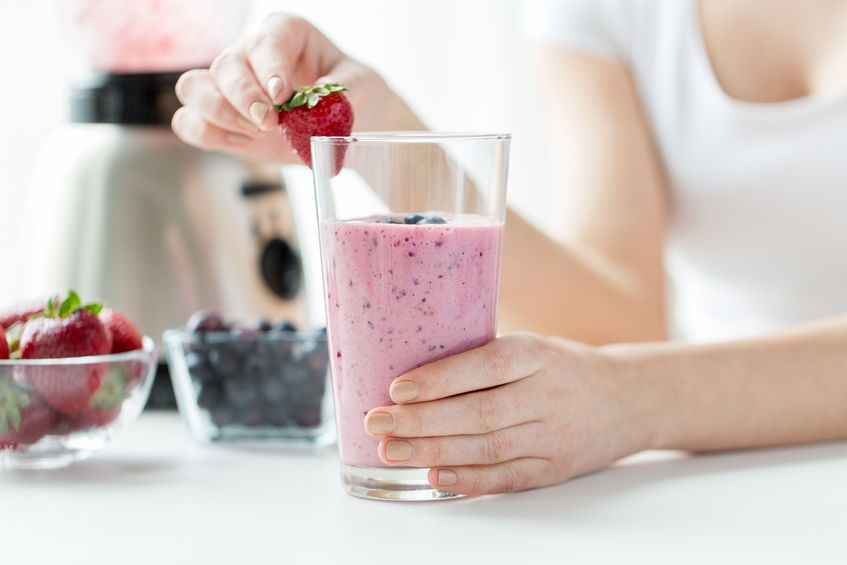 The best collagen smoothie recipes should include a handful of healthy fruits and a clinically proven collagen powder that contains an accurate and potent dosage of the core ingredient: hydrolyzed marine collagen. The recipes below all make use of the extremely effective Approved Science Collagen Powder for its ability to maintain skin tightness and elasticity, as well as the fact that the manufacturer includes a comprehensive money-back guarantee and enforces rigorous testing to highlight confidence in its effectiveness and ensure efficacious results.

Without further ado, here are our top 5 collagen smoothie recipes to help you get creative in the kitchen and maintain skin tightness and elasticity in no time:
For Dessert Lovers: Chocolate Dreams Collagen Smoothie
Lisa Bryan has concocted this dreamy chocolate smoothie that can be enjoyed by desert lovers after a hearty dinner for a healthy and enticing end to one's meal. Adding Approved Science® Collagen Powder will elevate the skin supporting qualities of this nutritious and delicious dessert collagen smoothie.
Ingredients
2 cups coconut milk
1 frozen banana
2 tbsp almond butter, or alternative
¼ cup cacao powder
2 scoops of Approved Science® Collagen Powder
For Berry Fanatics: Blueberry Blaze Collagen Smoothie
Berries and collagen smoothies go hand in hand, with a wealth of recipes including a variety of the popular healthy snacks. While red berries like strawberries and raspberries are incredibly nutritious, there is something special about blueberries and their health benefits that can be enjoyed alongside a scoop or two of Approved Science® Collagen Powder in Katja Heino's berry blaze smoothie.
Ingredients
1 cup blueberries
½ frozen banana
½ ripe avocado
1 tbsp almond butter
1 tbsp chia seeds
2 scoops of Approved Science® Collagen Powder
1 ½ cup milk or water
For Those On-The-Go: Meal Replacement Collagen Smoothie
Sometimes it's difficult to make time for a snack during the workday, especially for people who are always on the go. That's why concocting this quick and easy collagen smoothie meal replacement by Brittany Williams with Approved Science® Collagen Powder may be the answer for your fast-paced lifestyle.
Ingredients
For Gymmers: Protein-Packed Collagen Smoothie
A protein collagen smoothie loaded with Approved Science® Collagen Powder like this one from Liz Della Croce is bound to build muscles, support your post-recovery wind-down, and work to maintain skin tightness and elasticity.
Ingredients
2 cups baby spinach
1 medium apple (cored)
½ banana
¼ avocado
2 scoops of Approved Science® Collagen Powder
2-inch piece of ginger root
2 tbsp lemon juice
1 tbsp flaxseed
1 tsp turmeric
Chia seeds/hemp seeds to garnish
For Tropical Parties: Brazilian Getaway Collagen Smoothie
Our list would be incomplete without a skin-supporting collagen smoothie recipe made for those that enjoy a good party. Whip this up quickly at your next gathering or dinner extravaganza and add a splash of vodka if you wish to liven up this Brazilian-inspired collagen cocktail from Women's Health that supports skin health.
Ingredients
1 cup coconut water
1 cup chopped kale
1 cup frozen blueberries
1 orange, peeled
2 brazil nuts
Splash of vodka (optional)