Are you looking for an effective and reliable appetite suppressant? It can be difficult to know which products out there are effective and worth buying, but we're here to help.
With the rise in interest and increasing popularity of weight loss supplements, we created a product to suppress appetite, balance the hunger hormones and aid in weight loss. But does Approved Science® Appetite Suppressant work, and does it have enough value to justify a purchase? That's what we aim to uncover by investigating Approved Science® Appetite Suppressant reviews, so that you can make an informed decision on this popular supplement. In this post, we'll delve into the reviews, investigate any side effects, and find out where you can buy it. Most importantly, we'll assess its effectiveness in helping people to suppress their appetite. 
Whether you're thinking of trying this supplement or simply curious about it, read on to discover everything you need to know.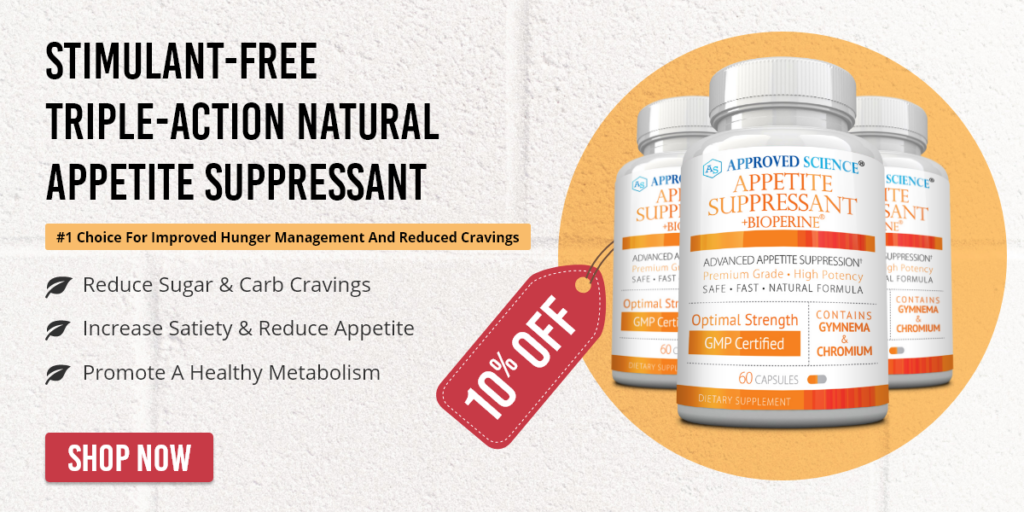 Approved Science® Appetite Suppressant Reviews: What do Customers Say?
Curious about how Approved Science® Appetite Suppressant stands out from the sea of options available today? Wondering if it truly delivers on its promises? The short answer is yes! Hear it straight from some of our satisfied customers (- all verified Amazon reviewers):
"This product is really amazing. Not only did I receive it fast but it really does work! It has helped me eliminate my overindulging and frequent snacking. Looking forward to seeing the weight loss!"
"I take one in the morning and can go the rest of the day without the urge to binge on junk."
"Great ingredients that work – gymnema sylvestre & bioperine, plus cayenne – all work to balance blood sugar and increase metabolism. With the addition of white kidney bean (- reduces the impact of carbohydrates converting to fat) and chromium, you get a great weight loss combination. I am caffeine sensitive, so none of these ingredients give me the jitters, make me sick to my stomach, or disturb my sleep. I've lost a few pounds, but my focus is on keeping my appetite low, increasing my resting metabolism, and keeping my body fat from increasing. This product provides the combination I have been looking for."
"Great appetite suppressant. Works as indicated. I've been using it to help me transition to intermittent fasting protocol."
"Amazing product! My food intake has dramatically decreased from what I was eating per meal. Since using this product I've lost 10 pounds in less than 2 weeks. Very pleased by the results."
"I have been taking them for almost a month now. I find they do help to suppress my hunger pains. I find they work best when taken about 2 hours prior to eating with a bottle of water. When I do eat, I am eating less and feeling full quicker."
So – does Approved Science® Appetite Suppressant work? We think you'll agree that a quick look at these customer reviews tells you all you need to know. Here is a summary of all the best points that people loved:
No caffeine, so no jitters and still allows users to sleep
Helps users to feel full faster without feeling hungry throughout the day
Curbs cravings, snacking and overeating
Works in conjunction with diet plans
Fast results
Unique formulation with some unusual and effective ingredients
No commonly-experienced side effects
Reasonably priced for a top quality supplement
User-friendly website, easy to purchase and great customer service
Anything negative to look out for? Let's take a closer look at some of the comments:
"The product doesn't work immediately."
"It didn't curb my appetite right away, but after a couple of weeks I could feel the effect of less hunger throughout the day."
"I used as directed and did not notice any change in appetite or energy."
It may very well work a little, but I didn't notice much of a difference."
"Unfortunately, the product didn't work for me, but was refunded the full amount. GOOD COMPANY!!!"
Although the vast majority of Approved Science® Appetite Suppressant Reviews are positive, there are, naturally, a few customers who weren't 100% satisfied. However, as can be seen from the examples above, there is nothing substantial to put you off here. The few negative reviews are generally not negative at all, and are mainly concerned with the length of time it takes to feel the product working. Many products take some time to take effect and this one is no exception. While some customers may experience positive benefits immediately, others will need to wait longer. Everybody is different, and results can depend on a whole range of external considerations.
Approved Science® is a company that takes customer feedback seriously and prides itself on the top quality of its supplements. Based on a number of factors, including the scientific research, the quality, potency and strength of the ingredients, and the excellent customer service, we are confident that you can't go far wrong with this supplement. And if there are still no effects after the first few weeks then Approved Science has a sound Return Policy for total reassurance.
Approved Science® Appetite Suppressant Side Effects
There are a tiny percentage of customers who were not satisfied with this product, claiming that they suffered side effects. In reality, there's more to eating than just being hungry. It's always worth remembering that reviews are based on the experience of other people and may not yield similar results for you.
If you're not totally happy with the results or have negative side effects, then all Approved Science® products come with a 60-day risk-free money-back guarantee. With the fear of wasting your money taken out of the equation, there is every reason to try out this Appetite Suppressant and hope that it gives you the same great results that so many others have experienced.
Is Approved Science® Appetite Suppressant Safe?
In general, appetite suppressant supplements are a safe and effective way to control cravings and hunger. Every Approved Science® product must undergo a rigorous research and evaluation process, and must also meet certain quality standards to be worthy of our seal of approval.
However, like any other supplement, they may interfere with medications, or lead to unwanted side effects, so should only be taken under the guidance of a doctor or healthcare professional.
Where Can I Buy Approved Science® Appetite Suppressant?
Who sells it? Approved Science® Appetite Suppressant is sold directly to the customer on the company's official website. It is also available to buy on Amazon. It comes at an affordable price with some excellent multiple purchase deals, saving you time, money and effort.
All Approved Science® products come with a 60-day money-back guarantee (provided that you are buying from these authorized sellers). Try it now and take 10% off your purchase!