Working from home has several benefits including reducing commuting time (goodby traffic!) and giving parents more quality moments with their children. Still, the new normal of remote working also presents a range of challenges – with one's fashion choices proving trickier than originally thought. It's easy to fall into the habit of slipping on some pajama shorts for the day and adopting a relaxed dress code from the waist down during virtual meetings, however, recent reports from top psychologists suggest that choosing your bedtime attire over comfortable but stylish fashion ideas may hinder your productivity.

If you are not sold on your work from home fashion and are looking to find out more about how you can choose the best outfits to be productive and comfortable, here are some helpful tips from the experts.
Choose Clothing That You Connect With
Anyone and everyone who has enjoyed the luxury of working from home has relished the opportunity to spend the day in a lush gown or matching set of sweats. Who can blame them? One of the many perks of remote working is the ability to decide your office attire without too much concern over judgment or others' reactions. The only real-time working from home requires a more formal dress code is during virtual meetings – where many opt to pair a smart shirt with some cartoon adorned pajama pants. While this is a perfectly natural response to the benefit of working from your home office, psychologists suggest that one should not make a habit of this. 
According to fashion guru media outlet Bustle, psychologist and author of 'Dress Your Best Life' Dawnn Karen proposes a fashion psychology theory she has dubbed 'mood enhancement dress'. Karen argues that wearing items you are connected with on a personal level will help one boost their productivity during periods of mental stagnation. From grabbing your beloved blouse to reaching for a sweater in your favorite color, Karen suggests clothing we adore will have a significant impact on our comfort and work rate. 
When considering this work from home fashion advice, it is important to remember that this tip does not account for clothing that you would typically wear to bed. All items constituting an individual's mood enhancement wardrobe should be fashion ideas that are also suitable for a company office environment.
The Dress-Up/Dress-Down Balance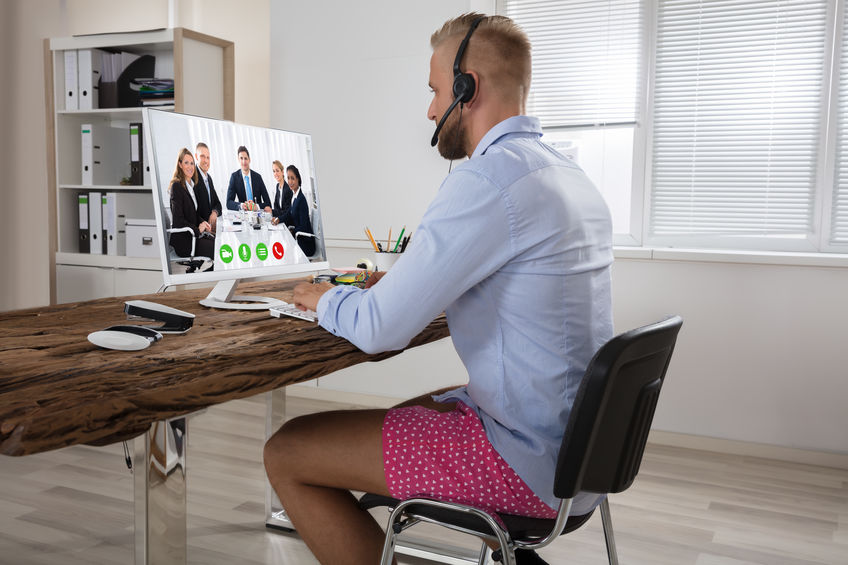 Part of optimizing remote working productivity is striking the perfect balance between dressing up and dressing down. Many of us, especially those working in corporate jobs, have a fully kitted-out formal wardrobe featuring an extensive range of fashionable items suited for the office's sophisticated company culture. Others work in casual office environments, such as advertising studios and creative agencies, which afford their employees more fashion freedom. However, the line between these two distinct business environments is blurring thanks to the introduction of remote working across all industries. Lawyers, for example, may conduct virtual meetings in collared shirts rather than full suits and fashion editors may forego a piece of jewelry or two while they are not attending presentations.

The reason why finding the right dress-up/dress-down balance is important as research suggests is that an employee's mood and performance is directly related to the appropriateness of their attire. For example, formal dress codes encourage individuals to associate themselves with formal behaviors whereas the opposite is true for casual clothing choices. When working from home, employees of typically formal jobs will not be required to assert as much of their formal behavior throughout the day as larger parts of their time will be spent away from other people and environments they associate with making formal impressions. 

People working from home may also be required to perform several additional tasks beyond work, such as house cleaning and providing care for their children, roles usually assigned to caregivers while parents were at work during the day. As a result, experts suggest matching formal items with comfortable pieces to create stylish looks that are functional for various tasks dedicated to one's remote working day.
Support Fashion with Supplements
Fashion decision fatigue is a very real problem employees face and is most noticeable in office environments where the constant anxieties and stresses around social acceptance inhibit an individual's ability to make wardrobe choices quickly. Decision fatigue can negatively impact productivity as time and energy is taken away during the crucial morning hours of one's day. Many prominent public figures and tech wizards, such as Steve Jobs, believed in adopting a minimal wardrobe to avoid decision fatigue. 

Another helpful way to minimize fashion fatigue and general fatigue is with the aid of beneficial and reliable health supplements sourced from reputable companies like Approved Science. 

One such supplement that has been shown to support productivity is Omega-3 MD, a product boasting optimal levels of essential EPA and DHA fatty acids that is scientifically formulated to boost cognitive function, improve mood, and promote brain development. Supplements like Omega-3 are an efficient means of receiving beneficial nutrients, which are also found in lean fish products, that can help combat productivity decline as a result of decision fatigue.
Beyond obtaining these nutrients through beneficial supplements, you can also reduce decision fatigue by making positive dietary changes – and these often start with sugar. Refined sugar is a highly toxic substance that can negatively affect your energy levels throughout the day, meaning sourcing healthy substitutes can improve your ability to inhibit fashion decision fatigue.
What Are The Best Outfits To Work From Home In?
With a better understanding of fashion psychology, you are able to make more informed work from home outfit choices. It is up to us to use our own creativity and add touches of our personality into our wardrobe decisions, however, the following best outfits and pieces are go-to fashion ideas to help you get started:

High-waisted leggings, that come in all colors and patterns, can be layered with a trendy sweatshirt to create a simply stylish look that can easily transition into a gym outfit.
Ditch the slippers for slides. Slides are sleek and stylish shoes that are super easy to slip into when walking around the house, helping you feel fully clothed when working from home.
A silk blouse is an essential work from home piece for its formal look, yet breathable and comfortable feel – offering the perfect dress-up/dress-down solution for meeting days.
Plain tee-shirts with denim jeans are a staple remote working look that requires little effort to put together yet offers maximum productivity and comfort impact.
Cardigans are chic pieces that can be thrown over just about any tee to create a comfortable winter work from home look that is still fashion-forward.
The Bottom Line
Working from home is an incredible luxury, however, it also presents an array of challenges particularly in the fashion department. While it seems like a great idea to lounge in pajamas and set up your laptop station in bed, improving your work from home wardrobe can have a significant impact on your productivity and mental wellness.

By choosing clothes you personally connect with, maintaining an effective dress-up/dress-down balance, and supporting your health with beneficial supplements you can improve productivity throughout the day without sacrificing any of the comfort!