Are you suffering from challenging prostate symptoms? Is the need to urinate keeping you up all night? Looking for natural prostate support without any of the nasty side effects? Read Prostarex™ reviews and discover an unhealthy prostate is not something that you need to suffer silently.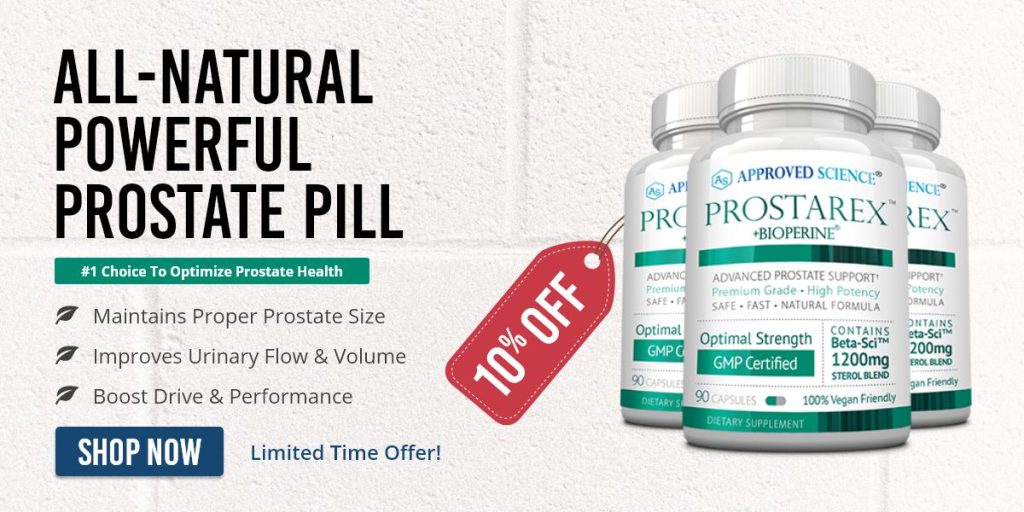 Prostarex™ Reviews – What Do The Customers Say
There are many Prostarex™ reviews available on both the Prostarex™ page and on Amazon, and they all tell a similar story – happy customers who have finally found relief.
"I have tried many other Prostate supplements in the past with mixed results. I can honestly say Prostarex is the BEST product that I have ever used! After taking this product for just a few days, I have seen a dramatic improvement of my energy level and the power of my flow. Thanks!" - Reggie Pendleton
"Best I've felt in a long time. More control of my day."- Ron
"My husband love them and so do I if you get my drift! We're on the second bottle." - Dooley386
My husband uses this for enlarged prostate. He spoke to his doctor about it and the doctor said no harm, keep using it. So far has been a great product. No side effects!!"- Carolyn Monroe
"Great product, does as it is advertised. All my symptoms have nearly gone away. Will definitely be a part of my routine from now on." - Trevor Freeman
"Reduced my nightly bathroom trips from 4 to 5 times a night to one or none!" - Amazon Customer
"Decreased prostrate size and regular bathroom uses. Healthier, vibrant and youthful." - Cardell
"This product has worked really well for me! Reduction in frequency and ease of flow have improved a lot! Thank you!"- Jon B.
"The product is outstanding. They fulfill their claim that the product is effective. The speed of which the vitamin arrived is mind boggling. You turn around and the package had arrived. Outstanding job from start to finish." - Michael Axelrod

Prostarex™ – Ultimate Prostate Support & Why You Need It!
The prostate is a small walnut-shaped gland that is part of the male reproductive system. It helps make semen and it is found right under the bladder. It is a small gland but it can cause big problems when things go wrong. And the reality is that all men are at risk for developing prostate problems. However, the good news is that there are things you can do about it.
What Can Go Wrong?
The prostate continues growing as men get older, which is why the majority of prostate problems occur in men over the age of 50. In fact, 50% of men over the age of 50 will experience issues due to an enlarged prostate. This rises to 80% of men over the age of 70!

Due to the location of the prostate, many of the discomforts of an enlarged prostate, also referred to as BPH, are urinary issues such as:

Constantly needing to urinate
Waking up at night to urinate
Pain during urination
Weak urine flow
Dribbling of urine
An enlarged prostate is usually what most men think of when they think of prostate issues, as well as prostate cancer. However, it is important to note that the two are not connected. There is no evidence to suggest that men with BPH have a higher risk for developing prostate cancer.

Another common prostate issue many men face is prostatitis. This is a painful swelling of the prostate which eventually resolves itself. While an enlarged prostate typically affects older men, prostatitis can affect men of any age, though it is more common in men over the age of 30. There are 2 main types of prostatitis:
Acute – Causes severe symptoms which usually come on suddenly and need immediate attention. It is caused by an infection.
Chronic – This is the most common type. It is not usually caused by an infection and symptoms come and go over a period of time.
Symptoms of prostatitis include pain in and around the pelvic area, lower stomach and lower back; urination problems and pain during urination; and sexual problems. Acute prostatitis could also cause a fever.
Now Onto The Good News – The Treatment Options For Prostate Problems
There are various treatment options available to help reduce these uncomfortable symptoms and help you get your life back. These include medications, surgery, active surveillance and natural prostate supplements.

Understandably, most men try to avoid surgery and other prescription medications leaving these as a last resort because they often result in other unwanted side effects.

A popular solution many men are turning to is active surveillance (monitoring symptoms) combined with taking a natural prostate supplement which is proving very beneficial. With so many prostate supplements out there, the trick is finding an effective one. Find out why Prostarex™, manufactured by Approved Science®, is the best prostate supplement available on the market today.
Why You Should Choose Prostarex As Your Prostate Support Supplement
If you've been Googling your symptoms to find out what natural support and relief there is for the symptoms associated with an enlarged prostate, you have probably come across different plant extracts such as Phytosterols, Pygeum, and the Saw Palmetto plant which are well-known to provide prostate health benefits. Prostarex™ contains all three of these popular plant extracts plus more!

Prostarex™ is the only prostate supplement on the market to contain the potent daily serving of 1200mg of Phytosterols in a unique patented blend called Beta-Sci™, making it a leader in the prostate supplement industry. This Phytosterol blend contains 80% Beta-Sitosterol, the most effective plant sterol, plus three other types – Beta-Sitostanol, Campesterol, and Stigmasterol.
These plant sterols, especially Beta-Sitosterol, have been clinically-proven to relieve the symptoms associated with an enlarged prostate.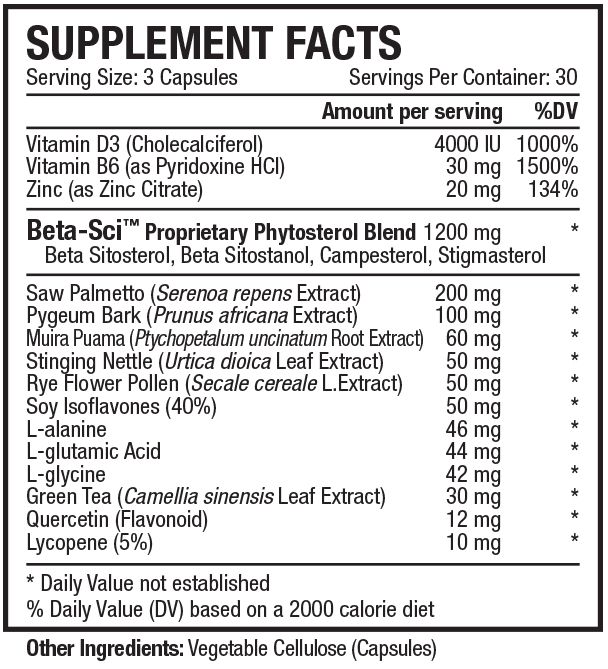 Phytosterols For Prostate Health – What The Studies Say
Phytosterols, also known as plant sterols, are compounds found in plants which are structurally similar to cholesterol. These sterols have been found to provide numerous health benefits including:

Lowering cholesterol.
Altering the metabolism of testosterone by inhibiting an enzyme responsible for the conversion of testosterone into dihydrotestosterone (DHT).
Helping to relieve the urinary issues related to benign prostatic hyperplasia (BPH).
DHT is an androgen hormone which is what keeps the prostate growing. This is beneficial for the developing prostate but less so for the adult prostate. By inhibiting this hormone, the rate at which the prostate grows should slow down.

Various animal studies have shown that Beta-Sitosterol had positive effects on stopping the conversion of testosterone into DHT by inhibiting the enzyme 5-alpha-reductase. This resulted in a reduced weight of the prostate.

In other human studies, Beta-Sitosterols were shown to improve the urinary symptoms associated with BPH. In one particular study, 200 men were treated with a combination of different phytosterols over a period of 6 months. Results showed an increase in peak urine flow and a decrease in post-void residual urinary volume compared to the control group. A follow-up evaluation showed that these results were maintained for 18 months.

Similar results were shown in a separate randomized, double-blind, placebo-controlled study conducted on 177 men with BPH over a period of 6 months.
Other Natural Ingredients & Plant Extracts Found In Prostarex™
The formulation found in Prostarex™ is like no other prostate supplement available today. So much research has gone into the formulation that you know you are getting top-notch ingredients that have been proven effective. It contains 12 key ingredients plus the Beta-Sci™ Phytosterol blend. In every capsule you will be getting an effective dose of:

Saw Palmetto – This extract from the Saw Palmetto plant is very popular for prostate health due to its high concentration of Beta-Sitosterol, fatty acids and flavonoids. It is mainly used to relieve the urinary issues associated with BPH.

Pygeum Bark – Also known as Prunus africanum, Pygeum is highly sought after thanks to the research supporting it. Studies have shown that it helps improve the urinary issues associated with an enlarged prostate. One study from 2012 suggested that it could also possibly help slow down the growth of the prostate.

Muira Puama – This plant has a long history of use as a natural aphrodisiac. It has been found to be beneficial for improving erectile dysfunction and increasing libido.

Nettle Leaves – Nettle leaves are highly nutritious containing numerous vitamins, minerals, amino acids and polyphenols. Animal studies have shown that Nettles can help inhibit the conversion of testosterone into DHT which helps slow down the growth of the prostate.

Soy Isoflavones – Research has found that in countries where soy isoflavones are a big part of the diet, men have a lower incidence of prostate issues and prostate cancer mortality rates are lower.

Lycopene – Lycopene is naturally produced in the prostate. It provides antiproliferative, antioxidative and anti-inflammatory benefits. It has been shown to be beneficial for overall prostate health.

Quercetin – This natural flavonoid has been shown to inhibit prostate cancer in both in vitro and in vivo studies. It has been found to reduce the androgen receptor expression which suppresses cell proliferation.

Green Tea – Contains a high amount of polyphenols which are powerful antioxidants. Most of the research conducted shows that Green Tea provides some protection against prostate cancer. One study showed that Green Tea also helped improve urological health.

Amino Acids – Studies have shown that the amino acids L-glycine, L-alanine, and L-glutamic acid helped relieve many symptoms associated with an enlarged prostate and maintain the normal functioning of the prostate.

Zinc – A zinc deficiency has been linked to an enlarged prostate and prostatitis. Zinc is believed to inhibit 5-alpha-reductase which is an enzyme responsible for the conversion of testosterone to DHT. Supplementation with Zinc showed an improvement in symptoms in men with BPH.
How Does Prostarex™ Compare To Prostagenix and Super Beta Prostate?
Two supplements making waves in the prostate health industry are Prostagenix and Super Beta Prostate thanks to their impressive formulas (and excellent marketing). However, Prostarex™ has gone even further to include even more in the way of prostate health-boosting ingredients in its formula to give you the ultimate prostate health supplement. Take a look and compare for yourself: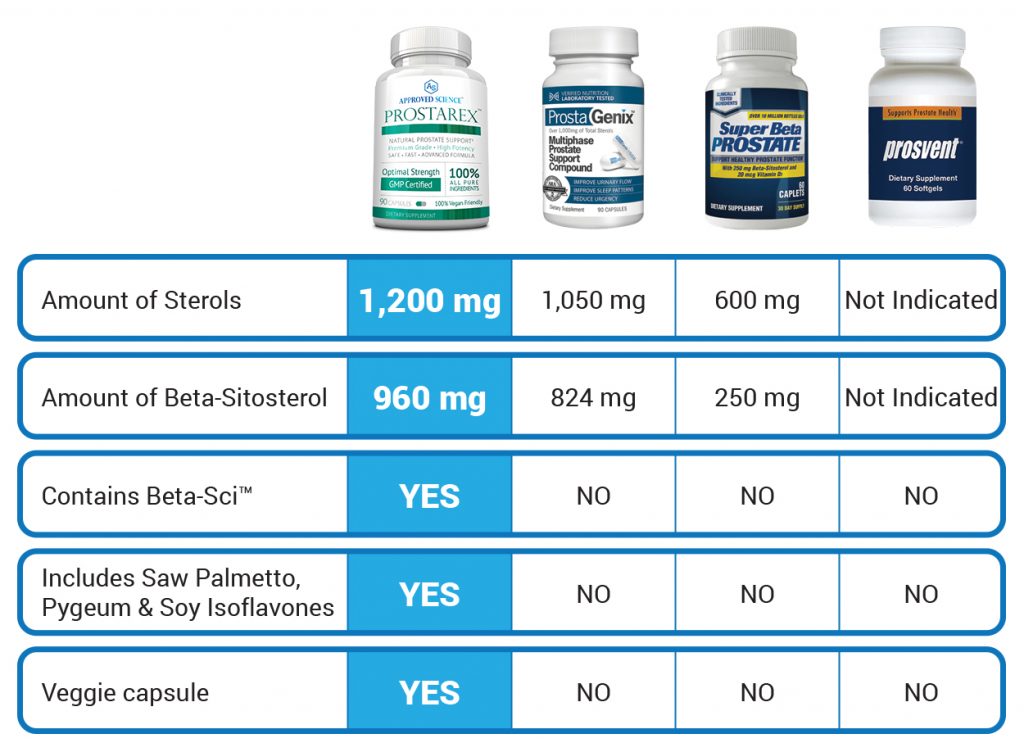 When it comes to finding an effective prostate support supplement, the ingredients and quantity it contains are everything.
Prostarex™ – The Added Benefits
As mentioned previously, the formula is the most important aspect of a prostate supplement if you are wanting to see effective results. As we've seen, Prostarex™ has this covered. What's more, is that it also offers many other benefits to make the buying experience a pleasant one.
Prostarex™ – Where To Buy?
There are various purchasing options available so you can save money with the more bottles you buy, which is great news for a prostate supplement. The best value package is buying 6 bottles for $23.30 a bottle which is incredible value for money considering the quality of the ingredients and all the research that has gone into Prostarex's development.
Prostarex™ is GMP certified and it is manufactured in an FDA registered facility so you can be sure of the high quality of the product. For a product to be GMP certified, it needs to be manufactured according to a certain set of guidelines to make sure each capsule is consistently produced to minimize any risks. It requires detailed written procedures of all the steps taken throughout the whole production process, including the materials used, the facility, to the personal hygiene of the workers.

The cherry on the cake is that Prostarex™ is backed by a 60-day money back guarantee. If you are not happy with the results for any reason, you are able to return both opened and unused bottles for a full refund (minus shipping costs) within 60 days. This allows for you to really try the product risk-free so you can decide for yourself if it really works.
Prostarex™ – Take 10% Off!
If you want to find out the amazing benefits of Prostarex™ for yourself, completely risk free, and without the fear of being signed up to an auto-ship program, you can buy it here.