What is Omega-3 Fish Oil?
Omega-3 fatty acids are essential for the human body, as they cannot be produced by the body on its own. These polyunsaturated fats can be obtained through a balanced diet, but taking fish oil supplements can make it easier to meet the daily requirements. Omega-3 MD™ is a fish oil supplement that is especially rich in two crucial fatty acids: Eicosapentaenoic Acid (EPA) and Docosahexaenoic Acid (DHA). EPA and DHA are important for a range of health concerns, including maintaining good heart health, reducing inflammation, improving brain function, and supporting overall well-being (1). If you're not getting enough EPA, DHA and other fatty acids in your diet, Omega-3 MD™ may be a great supplement for you to consider. If you're not yet sure, read the Omega-3 MD™ reviews, coming up below.
Omega-3 MD™ Reviews: What Do Our Customers Say?
It's only natural that you may want to hear from verified customers about their experiences of taking Omega-3 MD™ before you decide to try it for yourself. Unbiased reviews are invaluable when attempting to determine if a product is truly effective. The Omega-3 MD™ reviews featured here are exclusively sourced from Amazon shoppers with confirmed purchases. Read on to find out more!
"First time I took them the pain in my hands went away."  - K. Sterley

"Great product. It does not cause me to burp after like lots do. I have tried many products that are cheaper and I keep coming back to this one. It helps my mood my skin and hair. I buy it every month." - B. Gross

"It improved my triglyceride levels by 50%. Nice addition to my supplement regimen." - Amazon Customer

"I have more energy, I feel better over all and my joint don't seem as stiff when getting up or moving around I have also noticed that my memory has improved." - K. Hughes

"The capsules are easy to swallow and the best thing is the all the ingredients are PURE." - C. Hellhoff


"I LOVE this product - no more joint pain and increased energy!!!!" - M. Gooden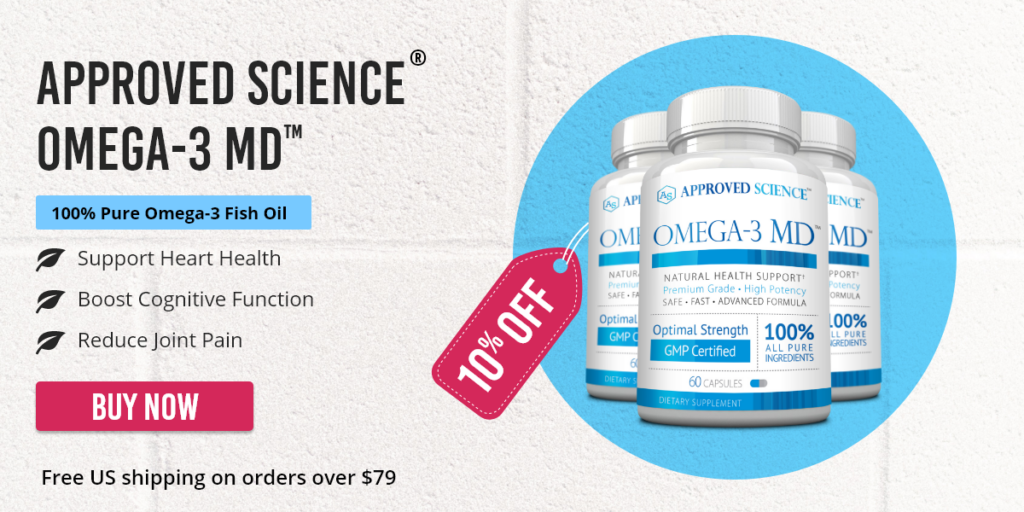 What Ingredients Are In Omega-3 MD™?
When it comes to reaping the incredible benefits of omega-3 fatty acids, not all supplements are created equal. At the core of Omega-3 MD™ lies only one ingredient: 100% pure, molecularly distilled fish oil. With a generous 2500mg serving, this supplement ensures you receive a potent dose of omega-3s. Of this serving, 900mg is EPA (Eicosapentaenoic Acid), while 600mg is DHA (Docosahexaenoic Acid). These are the two most important types of omega-3s. Other supplements often fall short in providing significant amounts of EPA and DHA, but Omega-3 MD™ contains optimal quantities, sourced from the same fatty acids proven effective in clinical studies.
EPA and DHA play crucial roles in supporting cardiovascular health, brain function, joint mobility, inflammation, and even mood regulation. By incorporating Omega-3 MD™ into your daily routine, you can unlock these benefits and promote a healthier, more balanced lifestyle.
A further remarkable feature of Omega-3 MD™ is its purity. Molecularly distilled fish oil is considered the purest and best due to the meticulous process it undergoes, which removes impurities, toxins, and heavy metals. This results in a highly concentrated and contaminant-free source of omega-3 fatty acids, from wild-caught mackerels, anchovies, and sardines. The supplement contains no other ingredients aside from the capsule coating, which serves to protect the formula and improve ease of consumption. This means that you receive only the benefits of highly refined omega-3s without any unnecessary fillers or additives. Furthermore, the capsule coating aids in preventing fish burps and unpleasant tastes, and also makes it easier to swallow.
Is Omega-3 MD™ Safe? Are There Side Effects?
The ingredients in Omega-3 MD™ are all natural and should not cause any side effects. However, It's important to always read the label carefully before taking any supplement, and consult with your doctor if you are unsure about any ingredients or possible side effects.
At Approved Science®, we are committed to delivering products of the highest quality and purity. All ingredients undergo rigorous third-party testing to ensure quality, purity, and safety. We take pride in adhering to strict cGMP guidelines throughout the entire production process. This ensures that each product is safe for consumption. Our ingredients and dosages are carefully chosen based on the latest scientific research. At Approved Science®, you can trust that our products are not only effective but also of the highest quality and safety.
Where Can I Buy Approved Science® Omega-3 MD™?
Having read the Approved Science® Omega-3 MD™ reviews, it's time to unleash the potential of this effective supplement firsthand! Take advantage of the convenience offered by purchasing it directly from the reliable Approved Science® website or via Amazon.
To sweeten the deal, we're delighted to extend a special offer of a 10% discount on your order, coupled with free shipping for all US orders over $79. You can be fully confident in your purchase, as all Approved Science® products come with a 60-day money-back guarantee, ensuring a stress-free buying experience.
We recommend you order it soon, though – it's such a popular item that it often sells out fast!