It's no secret that antioxidants are vital to living a healthy life, but once you read this post, you'll see that they're also the key to a tasty breakfast. An antioxidant breakfast can be a great way to help your body fight off disease and slow down the aging process (1). Not only are these breakfasts packed with antioxidants, but they're also delicious and easy to make. If you're looking for a way to start your day with a boost of energy and healthy nutrients, try one of the antioxidant breakfast ideas below.
Top Antioxidant-Rich Foods To Include In Your Breakfast
1. Berries: Berries are packed with antioxidants, including anthocyanins, which can help protect your cells from damage caused by free radicals. Add a handful of blueberries, strawberries, or raspberries to your breakfast for a burst of flavor and antioxidants. These can be eaten on the side of your breakfast or be incorporated into a dish.
2. Chia Seeds: Chia seeds are high in antioxidants, as well as fiber, protein, and omega-3 fatty acids. Adding chia seeds to your breakfast can help keep you full and energized throughout the morning.
3. Tomatoes: Tomatoes are a good source of the antioxidant lycopene, which has been linked to a lower risk of heart disease and certain cancers (2). Roasted tomatoes make a great addition to breakfast sandwiches or avocado toast.
4. Greek Yogurt: Greek yogurt is a great source of protein and contains antioxidants like vitamin C and selenium. Top your Greek yogurt with fresh fruit and granola for a tasty and antioxidant-rich breakfast.
5. Quinoa: Quinoa is a high-protein grain that contains antioxidants like quercetin and kaempferol. Make a quinoa breakfast bowl with fresh berries, nuts, and a drizzle of honey for a satisfying and nutritious breakfast.
Adding these antioxidant-rich foods to your breakfast routine is easy and can have a big impact on your health. Experiment with different combinations and see what works best for you. Here are some ideas to get you started.
>>>Don't miss our post about the best Keto smoothie recipes for constipation!
Recipe 1: Berry And Chia Seed Smoothie Bowl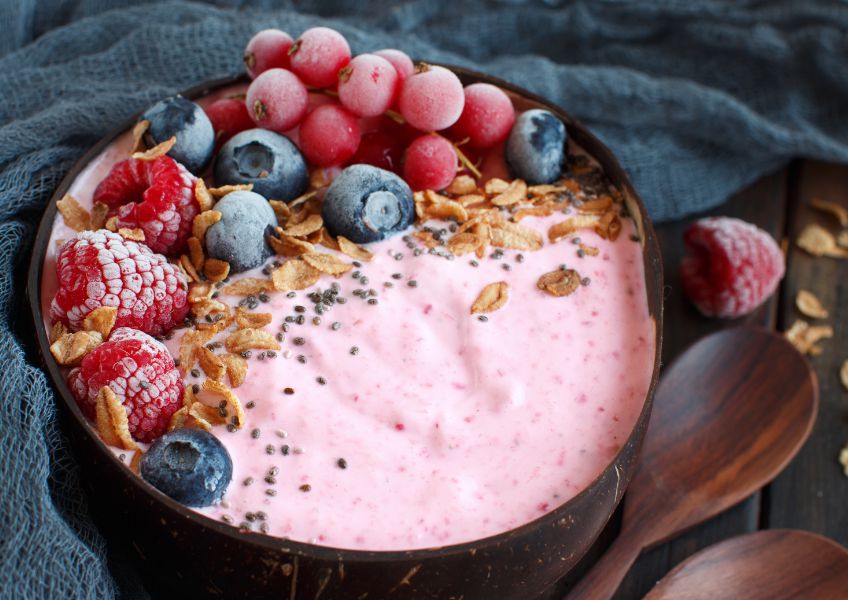 Ingredients
1 cup mixed frozen berries
1 banana
1/2 cup almond milk
1 tbsp chia seeds
1/4 cup granola
1/4 cup fresh berries (optional)
Cocoa powder (optional)
Coconut flakes
Directions
Blend frozen berries with the banana and almond milk. Pour the smoothie into a bowl and top with chia seeds, granola, fresh berries, cocoa, and coconut flakes. Serve immediately and enjoy.
The Benefits Of This Antioxidant Breakfast
This smoothie bowl is not only delicious, but also a great source of antioxidants, vitamins, and minerals. Berries are known for their high levels of antioxidants, which help to protect against inflammation and oxidative stress in the body. Chia seeds are also rich in antioxidants and fiber, helping to keep you feeling full and satisfied until your next meal. Adding granola to this recipe provides a healthy dose of fiber and protein, making it a well-rounded breakfast choice.
Recipe 2: Avocado Toast With Roasted Tomatoes And Eggs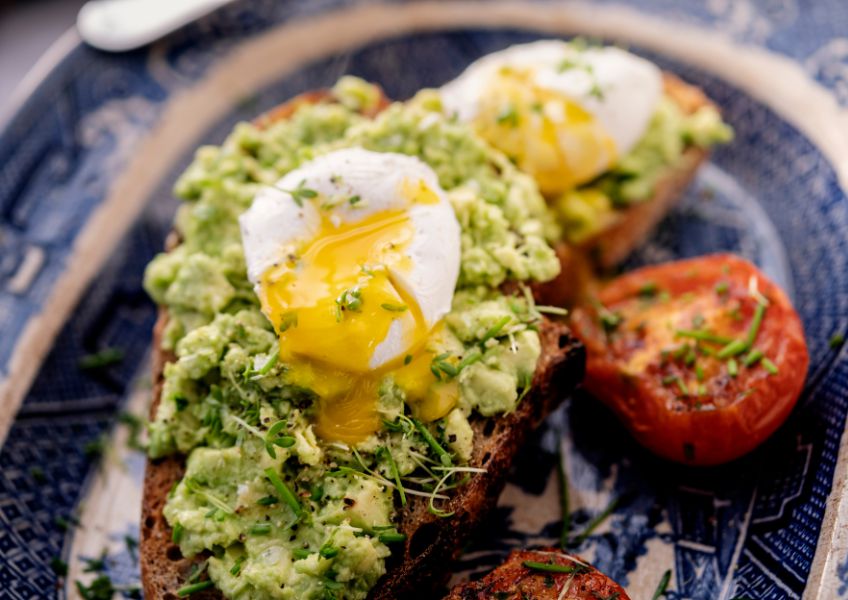 Ingredients
2 slices of whole-grain bread
1 avocado
1/2 cup cherry tomatoes
2 eggs
1 garlic clove, minced
1 tablespoon olive oil
Salt and pepper
Optional: Fresh parsley or cilantro, chopped
Directions
Place the cherry tomatoes on a baking sheet. Drizzle with olive oil and sprinkle garlic, salt, and pepper on top. Roast the tomatoes in the oven for 20 minutes, until they're slightly browned and softened. Toast the bread to desired crispiness while the tomatoes roast. While waiting for the tomatoes and bread, mash the avocado and season with salt and pepper. Fry the egg in a pan until the whites are set. Spread mashed avocado on the toast, add the roasted tomato, and top with the fried egg. Garnish with parsley or cilantro. Serve hot and enjoy!
The Benefits Of This Antioxidant Breakfast
This breakfast recipe is an excellent source of healthy fats, protein, and antioxidants. The avocado provides healthy monounsaturated fats, while the eggs are packed with protein. The cherry tomatoes add a dose of vitamin C and lycopene, both of which are powerful antioxidants. This breakfast will keep you full and energized until lunchtime!
>>>Don't miss our post about the best organic antioxidant supplements!
Recipe 3: Greek Yogurt Parfait With Fresh Fruit And Granola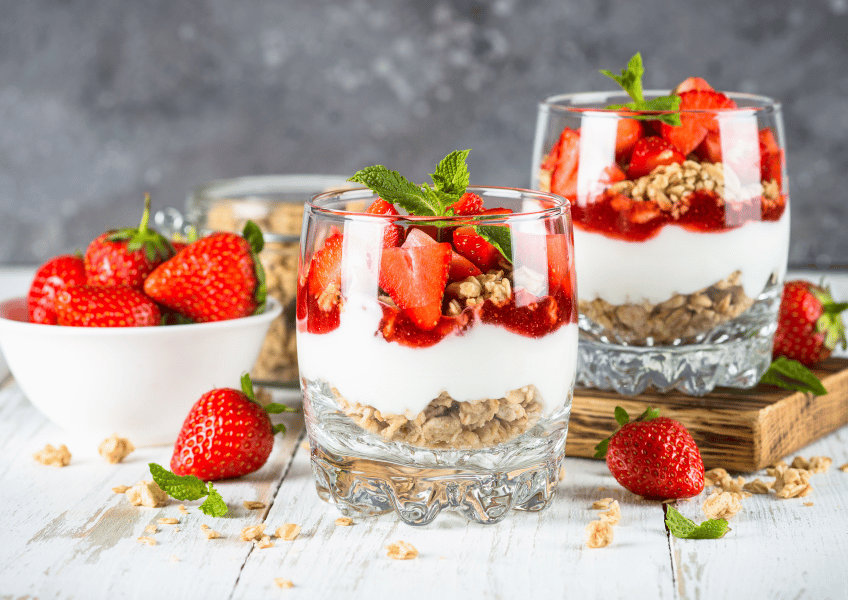 Ingredients
1 cup plain Greek yogurt
1/2 cup fresh mixed berries (strawberries, blueberries, raspberries)
1/4 cup granola (preferably low-sugar)
Mint leaves (optional)
Directions
Layer the Greek yogurt, mixed berries, and granola in a small bowl, large mug, or mason jar. Repeat the process until you've used all the ingredients or reached the desired amount. Garnish with fresh mint leaves. Serve immediately or store in the fridge for later.
The Benefits Of This Antioxidant Breakfast
Greek yogurt is packed with protein, probiotics, and other nutrients that can keep you feeling full and energized all morning. When combined with antioxidant-rich fruits and fiber-rich granola, this breakfast becomes a powerhouse of nutrition.
Recipe 4: Quinoa Breakfast Bowl With Berries And Almonds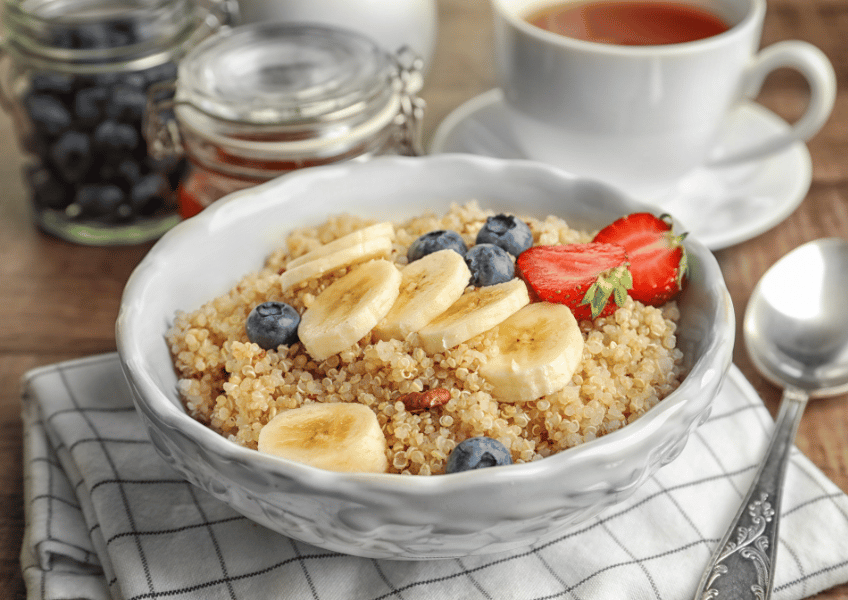 Ingredients
1 cup quinoa
2 cups water
1/2 cup fresh blueberries
1/2 cup fresh strawberries
1 banana
1/2 cup sliced almonds
1 tbsp honey
Directions
Rinse the quinoa under cold water in a fine-mesh strainer (unless you bought prewashed quinoa). In a medium-sized pot, bring the quinoa and water to a boil over medium-high heat. Once the water boils, reduce the heat to low and cover the pot. Allow the quinoa to simmer for 15 minutes. Then, remove the pot from heat and allow the quinoa to sit for an additional 5 minutes. Fluff the quinoa with a fork and add the berries and almonds. Drizzle with honey and serve.
The Benefits Of This Antioxidant Breakfast
Eating this protein-rich, antioxidant breakfast is a great way to boost your health and start your day off on the right foot. Try this quinoa breakfast bowl with berries and almonds, or experiment with other nuts and berries to create your perfect breakfast bowl.
>>>Don't miss our post about how to incorporate plant-based antioxidants into your diet!