Halloween doesn't have to be a scary time when it comes to staying on track with your keto diet. With a little preparation, you can still enjoy your favorite Halloween treats without all of the sugar. Many recipes can be made keto friendly by substituting flours and sugars for alternatives such as coconut flour or monk fruit sugar.
Here are some delicious low carb Halloween recipes that will help you enjoy your celebrations while staying on track! Additionally, if you're looking for that extra keto boost during the holidays, you can read about how the Approved Science® keto supplement can help keep your body in ketosis by reducing your cravings and supporting weight-loss.
Keto Halloween Recipes: Fudgy Chocolate Brownies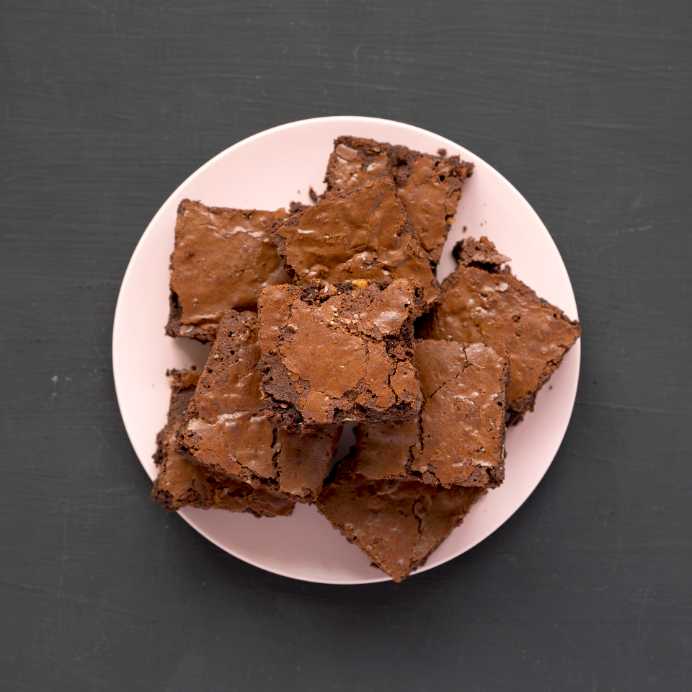 You can't go wrong with chocolate brownies! This chocolate brownie recipe is so simple to make, but so rich and fudgy that you would never guess it's low carb. The usual high carb flour is replaced with keto friendly coconut flour and monk fruit sugar is used instead of regular sugar.
Ingredients:
1 cup coconut flour
6 tbsp cocoa powder
1 tsp baking powder
1/3 cup melted butter
3 tbsp water
2 eggs
1/3 cup monk fruit sugar
1/2 tsp vanilla extract
Directions:
Mix all the ingredients together until everything is well combined. Pour your batter into an 8-inch baking pan and bake in the oven at 350 F for 20 minutes. Leave to cool and enjoy!
Low Carb Halloween Recipes: Cozy Pumpkin Spice Latte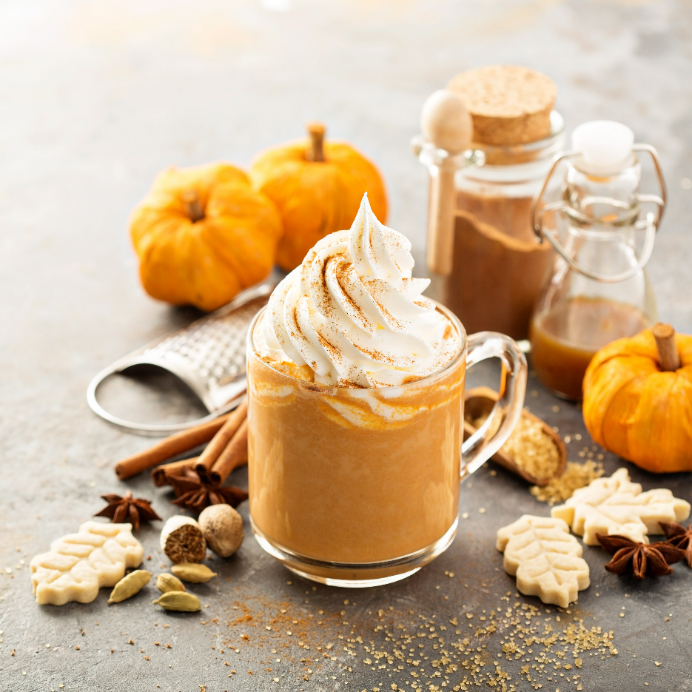 Halloween, October, and Fall are not complete without a pumpkin spice latte, but your regular pumpkin spice latte can contain over 7 teaspoons of sugar! This recipe will give you the tasty caffeine kick that you need without the extra carbs.
Ingredients:
3/4 cup unsweetened coconut milk
3 tbsp pumpkin puree
1/8 tsp cinnamon
3 tbsp heavy cream
1/4 tsp vanilla extract
1-2 shots of espresso (depending on how strong you like your coffee)
Full-fat whipped cream for topping.
Directions:
In a small saucepan over a low heat, add in the coconut milk, pumpkin puree, spices and heavy cream. Stir the ingredients together with a wooden spoon until the mixture is simmering and hot. Turn off the heat and add in the vanilla extract and coffee to the hot mixture. Stir until everything is smooth, pour into your favorite Halloween mug and top with some whipped cream!
Keto Halloween Recipes: Crunchy Roasted Pumpkin Seeds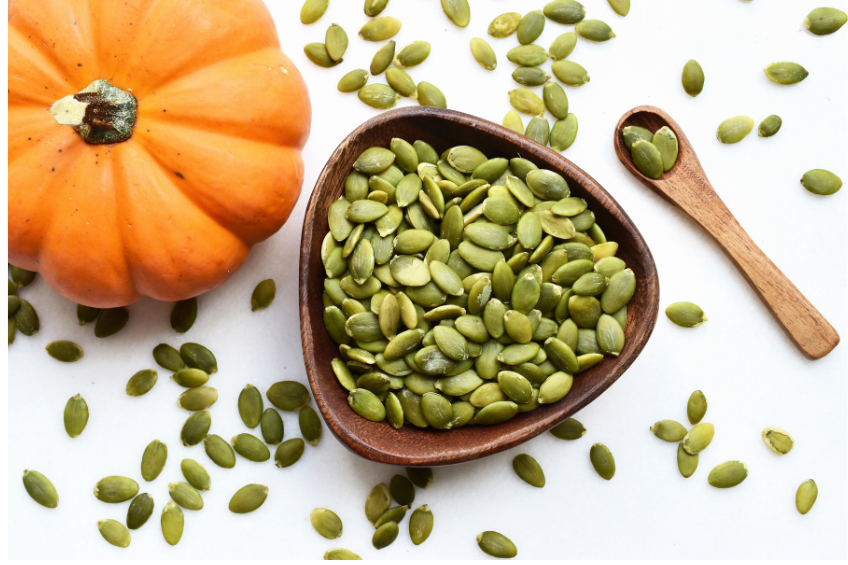 Don't throw out your pumpkin seeds! These crunchy roasted pumpkin seeds are a delicious savory keto Halloween recipe that can keep you full and less tempted to snack on those sugary Halloween candies.
Ingredients:
1 cup cleaned pumpkin seeds
1 1/2 tsp olive oil
1/4 tsp sea salt
1/4 tsp cracked black pepper
1/4 tsp smoked paprika
1/4 tsp dried herbs
Directions:
Wash and dry your pumpkin seeds to remove any pulp and add them to a small bowl with the olive oil, herbs and spices. Mix all the ingredients together until well combined and put them on a baking tray. Bake your seed mixture for 10-15 minutes in a 350F oven, checking halfway through to make sure they don't burn. Remove from the oven and put in your favorite halloween bowl and crunch away!
Low Carb Halloween Recipes: Perfect Pumpkin Muffins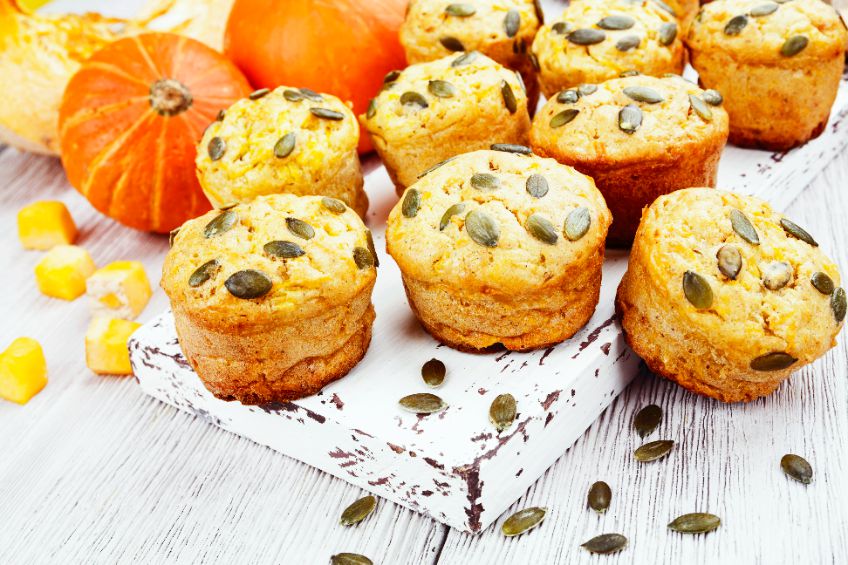 Pumpkin muffins are a sweet and spicy Halloween treat that can be eaten at any time of the day. Muffins are usually made with regular flour and lots of sugar, but these keto muffins use coconut flour and monk fruit sugar to keep them low carb and guilt-free!
Ingredients:
1 cup coconut flour
1/2 cup monk fruit sugar
1/2 tbsp pumpkin pie spice
1/2 tbsp cinnamon
1/4 tsp salt
4 eggs
1 cup pumpkin puree
1 cup coconut milk
1/2 cup melted coconut oil
1/2 tsp vanilla extract
1/4 cup sugar-free dark chocolate chips (optional)
1/4 cup pumpkin seeds for topping.
Directions:
Grease a muffin tin (10-12 muffins) and preheat the oven to 350F. In a large mixing bowl, add in the dry ingredients (coconut flour, monk fruit sugar, chocolate chips, spices and salt) and combine together. Add in the rest of the ingredients and stir until smooth. Pour the batter into the muffin tin and add the pumpkin seeds on top. Bake in the oven for 20-30 minutes or until golden brown. Serve warm for breakfast or enjoy with your keto pumpkin spice latte!
Keto Halloween Recipes: Spooky Deviled Eggs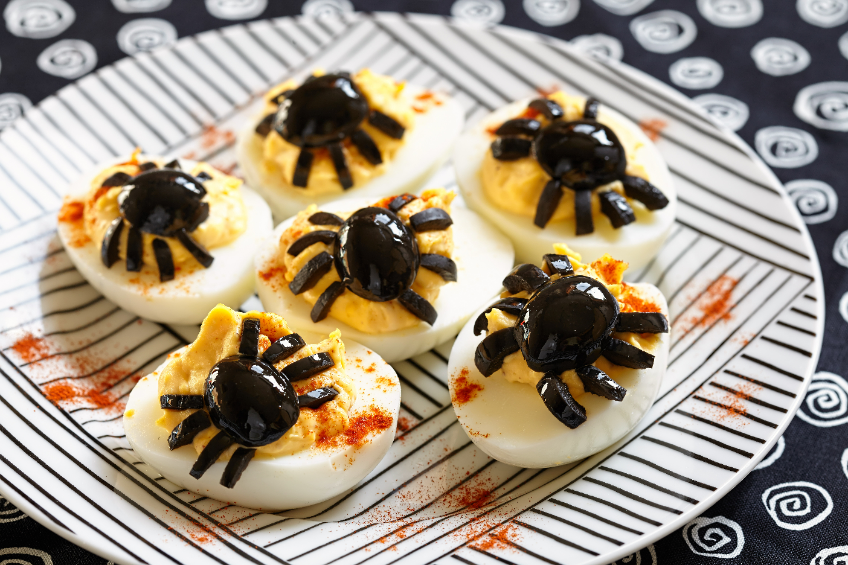 Deviled eggs are a low carb snack that are enjoyed all year round, but with a little extra decoration they can be turned into a spooky Halloween treat that will be a total crowd-pleaser. This recipe is equal parts simple and tasty!
Ingredients:
8 eggs
1/2 cup full fat cream cheese
2 tsp yellow mustard
8 green or black olives
Salt and pepper to season
Smoked paprika for topping
Directions:
Boil your eggs for 7-8 minutes until cooked. Once cooled, peel your eggs and cut in half. Scoop out the yolks and put in a bowl with the cream cheese and mustard. Mix all the ingredients together until smooth and add in salt and pepper to taste. Put the yolk mixture back into the egg whites. To make the spiders, cut each olive in half and use as the body. Take the other half of the olive and cut into 8 small parts for the spider's legs. Carefully place the body and the legs on each egg to look like a spider. Sprinkle each egg half with paprika and put on a platter and serve!
Low Carb Halloween Recipes: Spicy Bloody Mary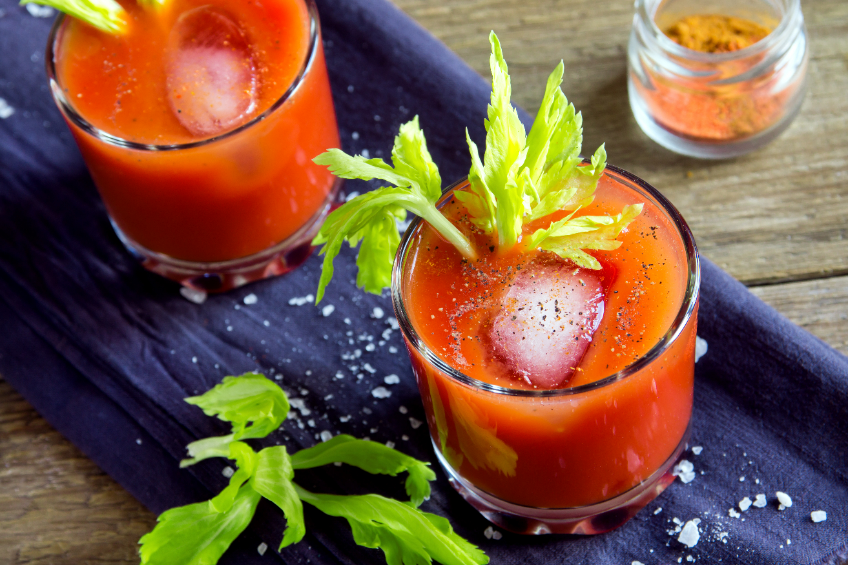 This spicy keto bloody mary will warm you up on a chilly Halloween night! Bloody Marys use vodka which is already a lower carb choice of alcohol, but make sure to use an unsweetened tomato juice to keep it keto friendly. This tasty cocktail can also be enjoyed alcohol free, just leave out the vodka. Make this cocktail as spicy as you like!
Ingredients:
1 1/2 cups unsweetened tomato juice
1 1/4 shots of vodka (optional)
dash of Worcestershire sauce to taste
dash of tabasco to taste
3 tsp lemon juice
2-3 ice cubes
celery for serving
Directions:
Put all of the ingredients into a cocktail shaker and shake until the mixture is frothy. Pour into your favorite cocktail glass and garnish with a stick of celery. Drink up!
Enjoy Spooky Savings This Halloween
Don't get caught trick or treating without your favorite keto supplement. Save 10% off your next purchase while supplies last.