Have you done a double take recently when you passed a mirror? Does your body creak when you get out of bed in the morning? If you've suddenly found yourself over 50 and wondering how you got there, then these are the 5 best supplements for women that you must start taking immediately. Don't let age define you! Take control of your health with natural ingredients that will make you feel like yourself again.
Best Supplements for Women: Menopause Relief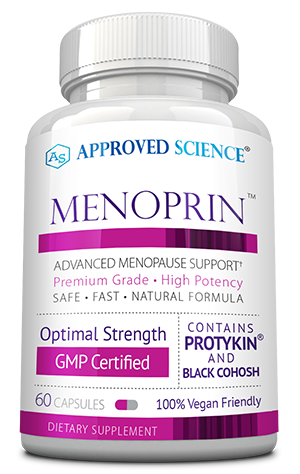 Menoprin™
Separate day and night formulas to combat symptoms 24/7!
Are menopause symptoms ruining your life? Are you one of the unlucky women whose health is suffering because of menopause? Suffering from menopause symptoms? Natural, hormone-free relief can be yours in separate day and night time formulas. Read compelling reviews from real women!
Why You'll Love It:
Relieves hot flashes and mood swings
Helps decrease irritability
Improves concentration and libido
Reduces night sweats and insomnia
Contains Protykin®, a patented phytoestrogen
Wanted to wait until I was sure this wasn't fools gold. Had my husband order this product because I was having flashes all day and all night. Literally suffering! Kicking cover, disturbing my husband's sleep which made me realize why seasoned couples sleep in separate rooms. I can't say ANYTHING bad about this product. It worked in what seemed to be immediately.
Shonjack
Prior to taking Menoprin I was experiencing hot flashes 6-7 times a day but the most problematic times were at night. Lack of uninterrupted sleep caused me to be tired and irritable during the day which affected my job and overall quality of life. Since taking Menoprin, I have only experienced minor hot flashes maybe once a week. Life is fun again! Thank you Menoprin.
T. Davis
Best Supplements for Women: Weight Loss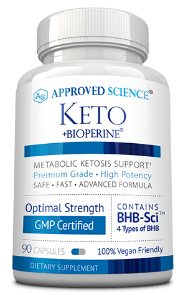 Approved Science® Keto
The only keto diet aid you'll ever need!
Do you want to elevate your Keto journey? Are you new to the Keto diet and need a little boost? Or a veteran that is looking to maintain great results? Then AS Keto is exactly what you need to elevate your keto journey to the next level. Find out for yourself why this product literally flies off of the shelves!
Why You'll Love It:
Boosts and maintain ketosis
Expedites keto weight loss
Boosts cognitive function
Enhances energy levels
Contains 2000 mg of BHB ketones clinically proven for fast results!
"I just love your product. It came highly recommended on a Facebook group. The fact that I don't have to take so many different vitamins is a win for me! The energy and decreased hunger is amazing. Will make sure I don't run out. Satisfied customer!!"view
Angela
"This product has overwhelming results. I'm down several pounds and I'm feeling great!"
Jessica
Best Supplements for Women: Collagen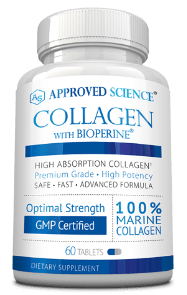 Approved Science® Collagen
Rated #1 for gorgeous skin!
Do people tell you that you look tired? Does your face resemble a haggard witch? Would you absolutely love a smoother complexion? Just one scoop or 2 tablets a day will help replenish your collagen levels that rapidly decrease with age. There's a reason we can't keep this product in stock. Grab this winner before it's sold out!
Why You'll Love It:
Restores dermal structure to help retain youthful looks
Enhances, firms and smooths skin
Strengthens and promotes hair growth
Improves joint and bone health
Contains Marine Collagen clinically proven for noticeable results!
"Now on my second container. I'm very pleased with results. Not only seeing much growth in hair and nails but joint pain is gone. Looking forward to seeing results in skin. Mixes well with my coffee with no flavor."
Christyingod
"I can see positive results on my hair and nails. My nails are stronger and my hair just looks better. Joints are feeling good and it really does work on maintaining a good digestive system."
Christie Curtis
Best Supplements for Women: Joint Support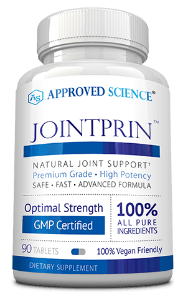 Jointprin™
#1 consumer choice for joint relief!
Are painful and creaky joints taking over your life? Wish you could go on a hike, ride a bike or start running? Move more easily and get that flexibility back with this unique product our customers can't stop raving about!
Why You'll Love It:
Quickly relieve joint pain
Rebuild joint strength, density and mobility
Reduce stiffness and swelling
Total-care solution targeting root factors and managing symptoms
Contains Glucosamine and MSM, clinically proven for fast relief!
"I tried Jointprin a couple of years ago because I'm a USDA FS wildland firefighter with knee issues. I now take Jointprin daily while fighting wildfires, because it works. I don't have any side-effect from this product, and it's more effective than taking pain pills.
Howard Venuto
"This product jointprin is amazing not only does it work but it actually work pretty fast as well. I have more full motion use of my joint that use to hurt and it has even helped heal my neck pain I have had for years that I thought was never going away. I would recommend to anyone with joint problems. Hands down best product and no side effects what could be better…. Try it!"
Blake Warren
Best Supplements for Women: Sleep Aid
Sleepsyl™
#1 choice to get to sleep faster and stay asleep longer!
Need more sleep? Try this non-addictive natural formula. #1 consumer choice! If you are looking to restore healthy sleep patterns and sleep deeper, longer and stronger you need Sleepsyl! Don't take our word for it – just read the reviews.
Why You'll Love It:
Provides you deep slumber to wake feeling rested & rejuvenated
2 easy to take capsules just half an hour before bedtime
Helps alleviate stress and anxiety also
No addictive and all natural – no nasty side effects
Contains 6mg of Melatonin, Mother Nature's natural sleep drug
"I had previously been taking melatonin and found that I did not stay asleep for more than 4 to 5 hours. With Sleepsyl, I am staying asleep for 6 to 7 hours on average. Much better quality of sleep, as well."
Bri
"Helped me fall asleep and fall asleep again if I wake up in the middle of the night. Also I feel much more rested the next morning and am not tempted to nap during the day."
Judybird