Everybody goes through stressful times. Stress is your body's natural reaction to potential challenges or threats, and in the short term it can actually be a positive thing. The problem is that constant, chronic stress can negatively impact your physical and mental health. When this happens, there is no shame in getting a little help. Enter Stressyl™…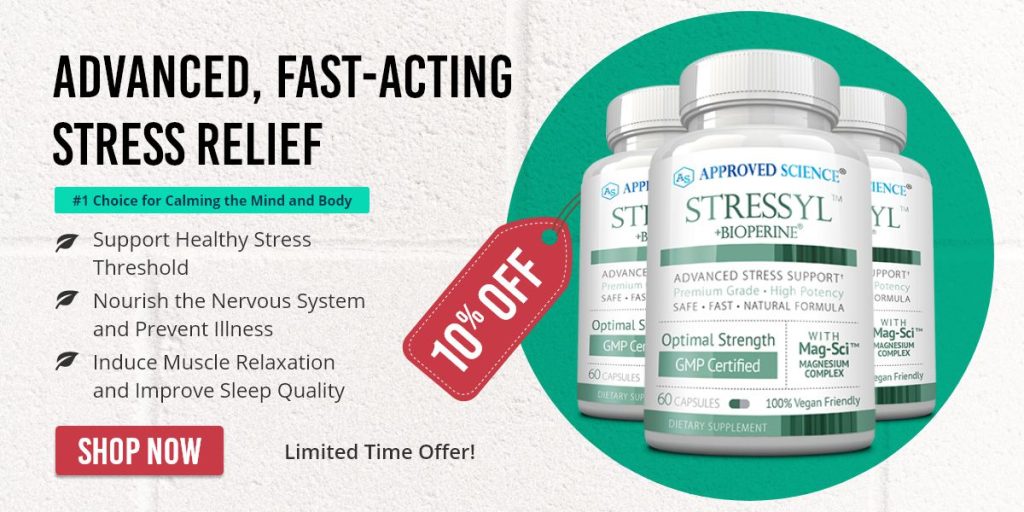 What Is Stressyl™?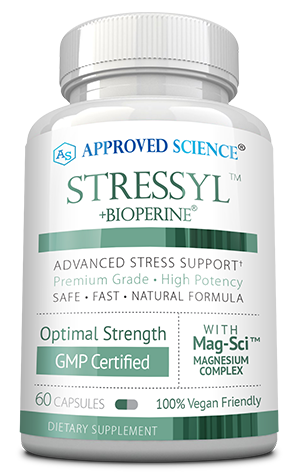 Stressyl™ by Approved Science® is an all-natural nutritional supplement which has been scientifically formulated to support healthy stress levels. Stressyl™ contains vitamins, minerals, and plant extracts targeted at nourishing the nervous system, boosting energy levels, and promoting restful sleep.
All of these ingredients have clinical studies backing them. Let's break them down one by one:
Stressyl™ Ingredients
B-Sci™ Vitamin B Complex – Contains 6 B Vitamins, which are some of the most important for the health of your nervous system and help alleviate anxiety and boost mood.
Mag-Sci™ Magnesium Complex – Contains 2 types of bioavailable Magnesium (Glycinate and Oxide) to help reduce stress hormones, relax muscles, and improve nervous system health.
Potassium Gluconate – Works with Magnesium to promote muscle relaxation. Stress hormones can reduce Potassium levels significantly, so it is important to make sure you get enough.
Vitamin C – Supports the immune system (which is often weakened by stress) and helps regulate the body's stress response.
Zinc Glycinate – Helps to maintain a healthy nervous and immune system, while balancing cortisol levels in the body.
Copper – Used to balance out a Copper deficiency caused by Zinc supplementation.
Valerian Root – Provides sedative and anxiolytic properties to calm the body and mind.
Ashwagandha – This adaptogenic herb provides many health benefits. It can help soothe stress and anxiety, relieve insomnia, and decrease pain and inflammation.
Rhodiola Rosea Extract – Another adaptogen to help increase the body's resistance to stressful situations.
Lemon Balm – Is said to help soothe symptoms of stress, promote relaxation and calmness, and lift mood.
BioPerine®– Piperine is an alkaloid found in black pepper which has been shown to increase the absorption and bioavailability of nutrients. BioPerine® is a patented, concentrated source of Piperine.
Stressyl™ Reviews: What Do The Clinical Studies Say
Each one of the ingredients included in the Stressyl™ formula has a good reason for being there. They all have clinical studies that show that they are effective for stress management. Let's take a look at some of these studies:
It is well-known that B Vitamins are generally good for the nervous system, and that a deficiency can worsen anxiety. This study takes a look at the effects of B Vitamins on the brain: Kennedy, D. O. (2016). B vitamins and the brain: mechanisms, dose and efficacy—a review. Nutrients, 8(2), 68. (1)
Valerian Root is sometimes referred to as "nature's Valium" and helps to calm the body and the mind. Lemon Balm is said to soothe symptoms of stress as well as boost mood and relaxation. This study that used Lemon Balm and Valerian Root together showed an improvement in anxiety levels: Kennedy, D. O., Little, W., & Scholey, A. B. (2004). Anxiolytic effects of a combination of Melissa officinalis and Valerlana officinalis during laboratory induced stress. Journal of Psychopharmacology, 18(3), A45-A45. (2)
Ashwagandha Root is adaptogenic, meaning that it increases the body's resistance to stress. This study was done on the exact dosage included in Stressyl™: Chandrasekhar, K., Kapoor, J., & Anishetty, S. (2012). A prospective, randomized double-blind, placebo-controlled study of safety and efficacy of a high-concentration full-spectrum extract of ashwagandha root in reducing stress and anxiety in adults. Indian journal of psychological medicine, 34(3), 255-262. (3)
You don't have to take our word – everything is in the research.
Stressyl™ Reviews: What Are The Customers Saying
We love hearing from our customers, and nothing makes us happier than receiving positive feedback about our products. Here are some reviews we've received about Stressyl™:
"Stressyl is amazing! It does a great job of calming my anxiety and allows me to function normally every day."

– Julie G.
"Turns out, these supplements help my stress levels enormously, and even give me an energy and motivation boost! And the best part is that there are no side effects because they are made from all natural ingredients!! Wish I had found them years ago."

– Kayla Y.
"I have to say, this supplement made a WORLD of difference for me!! Its changed the way I go through my day, and I finally feel like I can concentrate on my goals without the constant nagging pressure of my stress."

– Brian M.
Read the full reviews, plus many more, here.
Stressyl™ Side Effects
Stressyl™ is a safe, natural product. It is third-party tested and manufactured in a GMP-certified and FDA-approved facility. It does not have any known side effects. That being said, we recommend you consult with your doctor before starting any new dietary supplement, particularly if you are pregnant, breastfeeding, under 18 years old, suffer from a medical condition, or currently taking medication.
How To Take Stressyl™?
Stressyl™ should be taken twice a day – one capsule in the morning and one in the afternoon – before meals with an 8 oz glass of water.
Where To Buy Stressyl™
Stressyl™ is available on the Approved Science® website as well as on Amazon. All Approved Science® products come with a 60-day money-back guarantee (provided that you are buying from authorized sellers).
Stressyl™ Reviews: The Bottom Line
Stressyl™ is a safe, natural product designed to relieve stress, boost energy, and improve sleep quality. It includes a range of clinically-proven ingredients to nourish the nervous system and provide maximum support for optimal results. With many happy customers and hundreds of positive reviews, you'll definitely want to give this product a try.