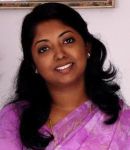 Anju Mobin
Expertise
Nutrition, Dietetics, Fitness, Health, Wellness
Education
B.Sc. Home Science (Clinical Nutrition and Dietetics) and Graduate degree in Fine Arts (BFA Applied Arts) from Kerala University
Highlights
Diet and fitness consultant in many medical clinics in India
Experience
Anju Mobin is a certified nutritionist with a 3-year graduate degree in B.Sc. Home Science (Clinical Nutrition and Dietetics). She has worked as a diet and fitness consultant in medical clinics in India before taking up writing as a full-time profession. With an additional 4-year graduate degree in Fine Arts (BFA Applied Arts), she combines her passion for advertising with her health industry knowledge to create, develop, and execute content marketing campaigns for healthcare products.
Quote From Anju Mobin
"When diet is wrong, medicine is of no use. When diet is correct, medicine is of no need." - Ayurvedic Proverb
About Approved Science's Editorial Process
At Approved Science, we strive to provide top-quality resources to help and support your health and well-being. Our teams consist of experienced writers and editors dedicated to sharing valuable content about supplements to boost your health. Healthcare professionals medically review our content to ensure relevance and accuracy. To learn what we do to deliver the best health and lifestyle insights to you, check out our editorial process.